written by Leung Yin Sheung, Wini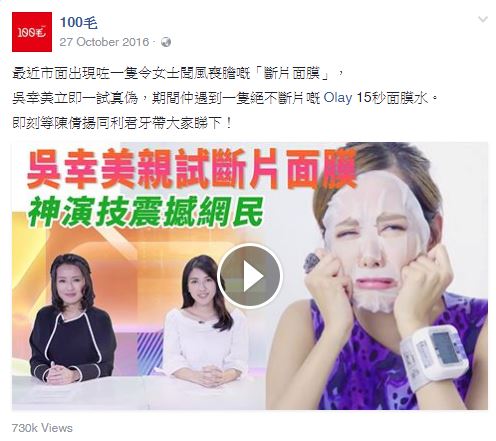 Doing the right thing or following a trend?
An Olay 15-second Mask Lotion sales promotion video is posted on the Facebook page of 100 Most on October 27, 2016 and gathered over 700K views, 10K reactions and 600 comments. In addition, around 1.5K viewers shared the video.
With the evidential enthusiastic response, is Olay really successful in trying to extend the success of its anti-aging products to a younger target segment?
Olay's, the anti-aging brand
According to reports Statista, the generation of women within the age bracket of 30 to 50 has been Olay's key target customers in the past. Olay Regenerist Micro Sculpting is the leading anti-aging facial brand in the United States with sales of 88.7 million U.S. dollars in 2016. When competitors like L'Oréal and Neutrogena are catching up fast, it is necessary for Olay to extend its success to a younger generation to maintain its leading position in the market.
Rational appeal through celebrity endorsement supported by with authoritative technology claims is consistently the formula in Olay's advertising message strategy. For example, Olay once uses Maggie Cheung, an iconic celebrity in the Asia, to promote its Regenerist anti-aging products by saying "Live demonstration of visible results with just one application" in 2012. It is rather convincing amongst the general public, especially to the middle-aged women when the endorsement is supported by the so-call "Skin Energizing Technology" and "Skin's natural exfoliation". According to Olay's Consumer Demographics report by InfoScout in 2016, Olay has a much higher appeal to women aged from 25 to 54 than those aged below 24.
A turning point in Olay's advertising strategy
The new promotion strategy collaborated with 100 Most is a turning point of Olay. Using the humor appeal, the narrative is filled with jokes, made-up statistics and reports. The celebrity element is retained yet in a naughty rather than authoritative way.
The statistics from the social media channels shows the new promotion approach is efficacious in attracting the attention of the younger audience. A young and energetic image of the Olay seems to be taking shape gradually.
Pros and cons of Olay x 100 Most collaboration
The promotion approach is chancy to Olay's brand message consistency. There is certain farfetchedness in the forced/false association between blackout of the mind and facial mask. However, using humor/hilarious execution is a trend on the social media and is receptive to the younger segments. The benefits of the product and the call for actions are clearly and repeatedly spelled out in the video. The reactions to the video post further illustrate. There is quite strong resonance from the younger segment and willingness to purchase the product is explicit. All in all, disregarding the production quality of the promotion video and its mission in brand building, it is an effective sales promotion targeting to the young generation.
Reference:
1) Olay: Brand Profile, adbrands.net
http://www.adbrands.net/us/olay_us.htm
2) Market share* of the leading 20 skin care brands in the U.S. in 2014, statista
https://www.statista.com/statistics/315612/percent-market-share-top-skin-care-brands-us/
3) Face creams and lotions for women brands of Olay ranked by number of users in the United Kingdom (UK) from 2013 to 2015 (in 1,000), statista
https://www.statista.com/statistics/304300/leading-olay-face-creams-and-lotions-in-the-uk/
4) Sales of the leading anti-aging facial brands in the United States in 2016 (in million U.S. dollars), statista
https://www.statista.com/statistics/312299/anti-aging-facial-brands-sales-in-the-us/
5) Olay Consumer Insights, InfoScout
http://infoscout.co/brand/olay
6) Olay Challenges What Is Possible
http://keehuachee.blogspot.hk/2012/05/olay-challenges-what-is-possible.html