A Whole New Experience at Ocean Park: "Green Staycation"
Written by: Hui Wing Lam, Rachel
#pinpointblogpost
Under COVID-19, people are keen to maintain a healthier lifestyle while under confinement. All in a sudden, activities like yoga or staycation become many people's hobbies. Catering this new trend, Ocean park decided to ride the wave as a way to save their business.
Ocean Park just announced their new 2-month campaign "Green Staycation" starting from their reopening on 1st October. The campaign mainly targets  Hong Kong citizens to let them explore Ocean Park in new ways. It encourages people to escape to the Southern District for a green getaway and surround themselves with scenic hills and breath-taking ocean views.
Locals are the specific target market of this campaign. LAU Ming-Wai, the new chairman of Ocean Park said this campaign is launched to promote community well-being and test out new directions for the amusement park; however he does not expect the loss-making business to turn a profit in a year.
The overall goal of this campaign is to show people a whole new image of Ocean Park and to test if these activities are sustainable. All activities – 'Yoga Vogue', 'Brick Hill Secret Unveil' and 'Starry Summit Glamping' in this campaign align with Ocean Park's market positioning, which are entertainment, education and conservation. Besides, all these activities match Hong Kong people's lifestyle and trends under COVID-19: This year, hiking has become one of the hot trends as people wish to take off their masks and breathe some fresh air; meanwhile, yoga, meditations or home workouts are gaining popularity during the work-from-home period as people want to relax and maintain both physical and mental health.  The "Staycation" trend is evolving in Hong Kong drastically these months, because people cannot escape from the hectic lives by travelling during the virus outbreak, they choose to stay somewhere outside home for few days to take a break!
This campaign is a sensible response to recent local trends, making it more likely for locals to revisit the park. Yet, there are quite a lot of alternatives for similar experiences in Hong Kong which are free of charge. Many hiking trails or camping spots also provide spectacular sceneries, so Ocean Park should make better use of their unique selling points, i.e. animals-related or conservation activities to make the whole campaign more interesting and attractive.
Although this campaign is fairly new, it has already enlisted many mediums. TV and radio commercials are used to introduce this campaign to a wide range of audiences. "Green Staycation" ads featured in MTR stations are also becoming more common. Most obviously, this campaign is making good use of the social media as information about this newly launched campaign are easily seen all over the social media, including the YouTube channel, Instagram and Facebook page of Ocean Park. Online advertisements are often posted to draw attention to this campaign.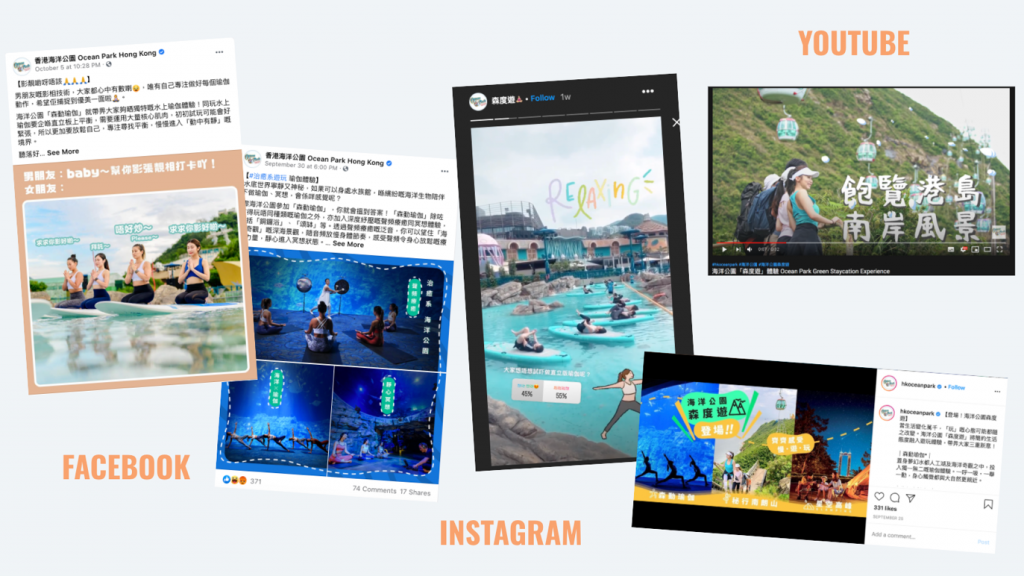 Overall, Ocean Park did a creative breakthrough of this campaign for customers to have whole new experience. But this may not be the best choice to attract sustainable potential customers in long term, and we should await to check out its effectiveness.
Reference
Leung K. (2020, September 10). Hong Kong's Ocean Park to tap 'staycation' market with new activities, doesn't expect to be profitable in a year. SCMP. Retrieved from https://www.scmp.com/news/hong-kong/hong-kong-economy/article/3101026/hong-kongs-ocean-park-tap-staycation-market-new
Ocean Park (n.d.). Retrieved from https://www.oceanpark.com.hk/en/experience/seasonal-events/green-staycation
---