Ben & Jerry's Turning Black Lives Matter into Black Lives Marketing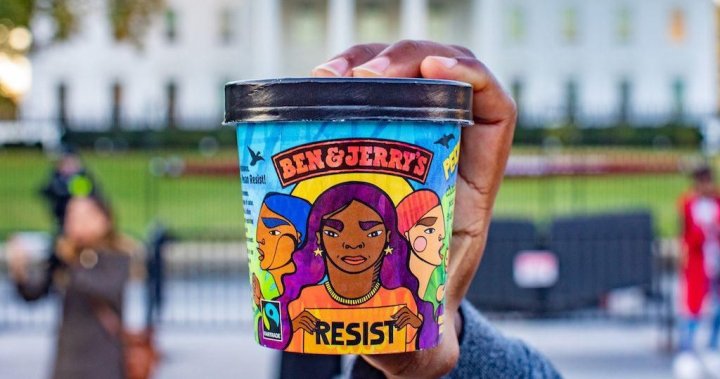 Written by: Chi Po Yee, Stephanie
#pinpointblogpost
The Growing Phenomenon of Corporate Social Responsibility
Traditionally, businesses only hold one social responsibility, which is to increase its profits. At that time, only overtly ideological companies have taken a stance towards social issues, especially in politics. But the killing of George Floyd due to police brutality has changed the phenomenon. Society is now more relationship-driven, as customers are demanding companies to make positive contribution to the society.
Ben & Jerry's Issued Powerful Black Lives Matter Statement
The world has been surrounded by "Black Lives Matter" statements. It also marks the rise of social good marketing in politics, aligning brands with a purpose and inspiring people in engaging with social issues (Shama,1975, page 106).  In the midst of many U.S. companies issuing statements in support of Black Lives Matter (BLM), Ben & Jerrys' post titled "Silence is NOT an option" stood out in a big way. But why Ben & Jerry's successfully won the heart of Americans? In other words, what is the winning strategy of social good marketing?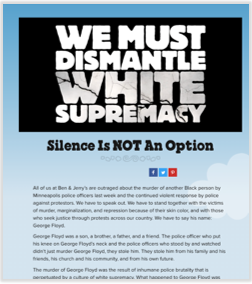 Figure 1: Screenshots of Ben & Jerrys' latest post (Ben & Jerry's, 2020)
Key Success Factor 1: Use of Social Media
Firstly, Ben & Jerry's made use of social media to deliver their messages. Social media and society have become inseparable nowadays while many social discourses happen through social media (Barnhart, 2020). By using social media for political marketing, they can easily reach potential audience as well as creating word-of-mouth effect. A customer has posted a photo with 43 cartons of Ben and Jerry's ice cream on Twitter. The post got more than 35 thousand likes and 126 thousand shares.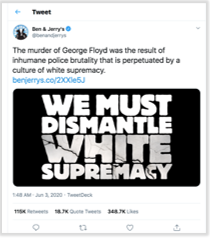 Figure 2: Screenshot of Ben & Jerrys' latest Tweet (Twitter, 2020).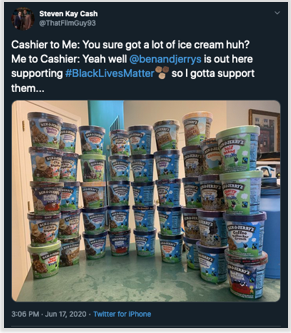 Figure 3: Screenshot of customer posting his purchases in supporting Ben & Jerry's (Twitter, 2020)
Key Success Factor 2: Call to Action
Is verbally saying one supports black lives enough in creating awareness? Definitely not. Many had criticized companies for lacking a call to action with sufficient support (Walker, n.d.). Ericka Claudio, a social activist claimed that saying "Black Lives Matter" is literally the bare minimum for these large companies. In Ben & Jerry's statement, they called out white supremacy and proposed detailed actions needed to address racial injustice. Customers will become more inclined to support their business because of how they, in turn, support the society. They are more receptive to messaging that makes them feel passionate than promotional advertisements. This also reflects how commodity activism works as consumers feel empowered when making decisions.
Key Success Factor 3: Brand Alignment & Continuous Efforts
Also, what made Ben & Jerry's statement effective are their continuous efforts in social justice. They have supported BLM movement since 2016 and published many articles supporting Black Americans. They even created a Justice Remix'd flavor to raise awareness towards structural racism (Salaky, 2020). Their brand history proved that their words are genuine. When brands engage in social issues, alignment is the key.
Investing in Social Good Marketing
Social good marketing in politics is no doubt, more challenging than other social responsibility roles. By utilizing social media, making efforts towards social welfare and continually doing the work via daily business practices, Ben & Jerry's has mastered their use of social good marketing in politics to build their brand image. The statement has gained more than 350 thousand people like it with 130 thousand people tweeted in support of Ben & Jerry's. Despite promoting product features through traditional advertising, social good marketing appears to be the new trend as it aims to make positive impact leading to consumer advocacy and increase profits.
References:
Shama, Avraham (1975), An Analysis of Political Marketing", in SV – Broadening the Concept of Consumer Behavior, Cincinnati, OH : Association for Consumer Research
Barnhart, Brent. (2020, August 4). Social media and politics: 10 best practices for campaigns to know. Retrieved from: https://sproutsocial.com/insights/social-media-for-political-campaigns/
Salaky, Kristin. (2020, June 3). Ben & Jerry's Issued A Powerful Statement Calling For Action To "Dismantle White Supremacy". Retrieved from:
https://www.delish.com/food-news/a32755773/ben-and-jerrys-black-lives-matter-statement/
Walker, Rob. (n.d., June 4). Ben & Jerry's Doesn't Have Time for Platitudes. Retrieved from:
https://marker.medium.com/ben-jerrys-doesn-t-have-time-for-platitudes-94956baa710
Ben & Jerry's (2020) Silence Is Not An Option. Retrieved from:
https://www.benjerry.com/about-us/media-center/dismantle-white-supremacy
---