Big Waster gave himself away to encourage public to go "plastic-and-disposable-free"
Written by: Cheng Yuk Ping, Ice
Big Waster (大嘥鬼) , a well-known mascot symbolizing food wastage in the "Food Wise Hong Kong" Campaign (FWHK), made appearance again in the "Plastic-Free Takeaway, Use Reusable Tableware" campaign.[1]
WHAT IS THE CAMPAIGN ABOUT?
The dual goal of this education and publicity campaign was to raise awareness for plastic waste problem in Hong Kong and encourage people to be "plastic-and-disposable-free" when ordering takeaways. The campaign launch could be categorized in two phases: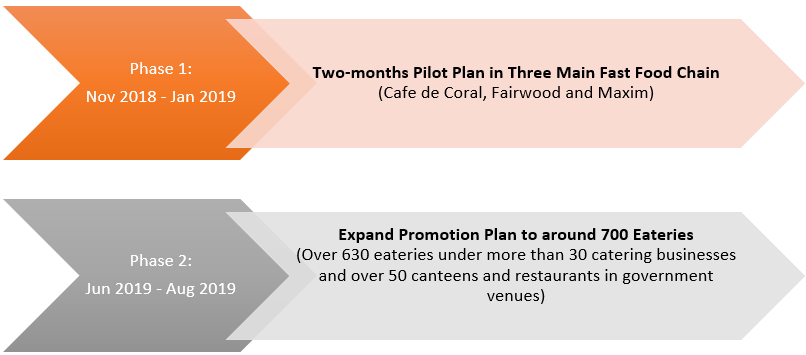 Customers who did not obtain a disposable tableware in their takeaway order will receive a sticker. After collecting six stickers, they may choose to redeem a Big Waster disposable stainless-steel cutlery set or opt for the complimentary offer provided by individual businesses. According to the official release, participating restaurants have distributed around 1.2 million stickers to their takeaway customers. Moreover, about 38,000 sets of cutleries and 30,000 complimentary offers were redeemed.[2]
BIG WASTER'S PRESENCE
Big Waster plays an important role in the campaign by encouraging citizens to cultivate green lifestyle habits. The mascot was omnipresent in the campaign, as its face appeared in promotional materials, gifts and more.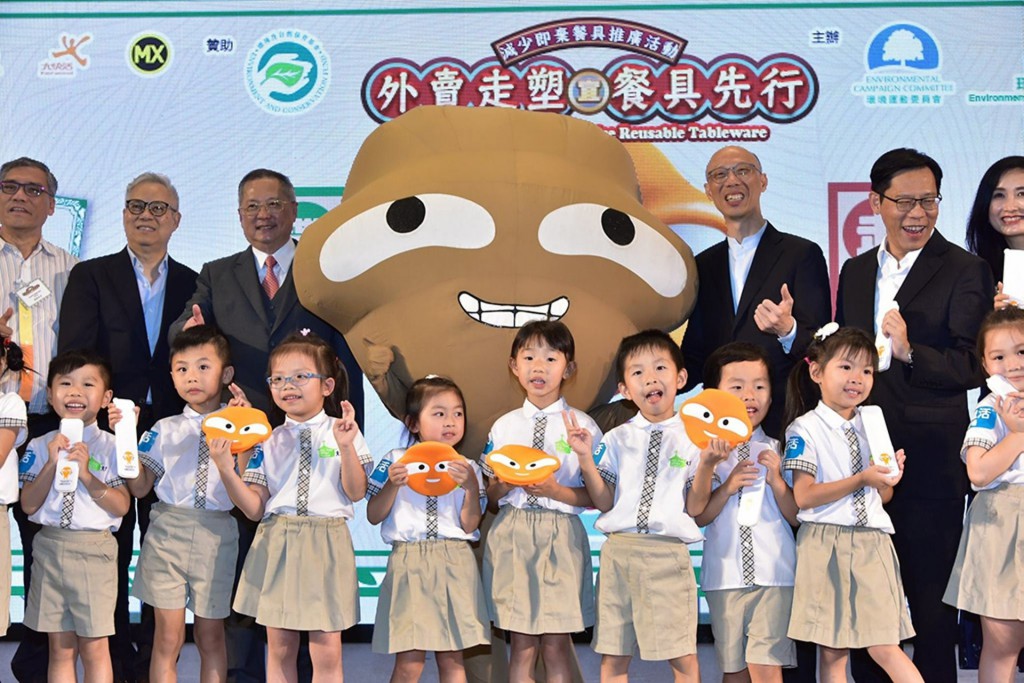 Serving as the mascot of the campaign, Big Waster embodied the message of making no waste, which is deeply rooted in people's recognition since FWHK.
WHY BIG WASTER?
The greatest benefit in employing Big Waster as the mascot is that since its debut as a rapper in FWHK promotion video, it has already become a public figure that is extensively recognized and identified by people at all ages. Other than "Anyone" (the mascot of the Fire Department's promotion campaign), Big Waster is a rare success case in the mascots used by the public sector. The quirky appearance and humorous personality has made it a much-loved figure.[3] Big Waster got its own Facebook page with more than 65,000 likes and followers.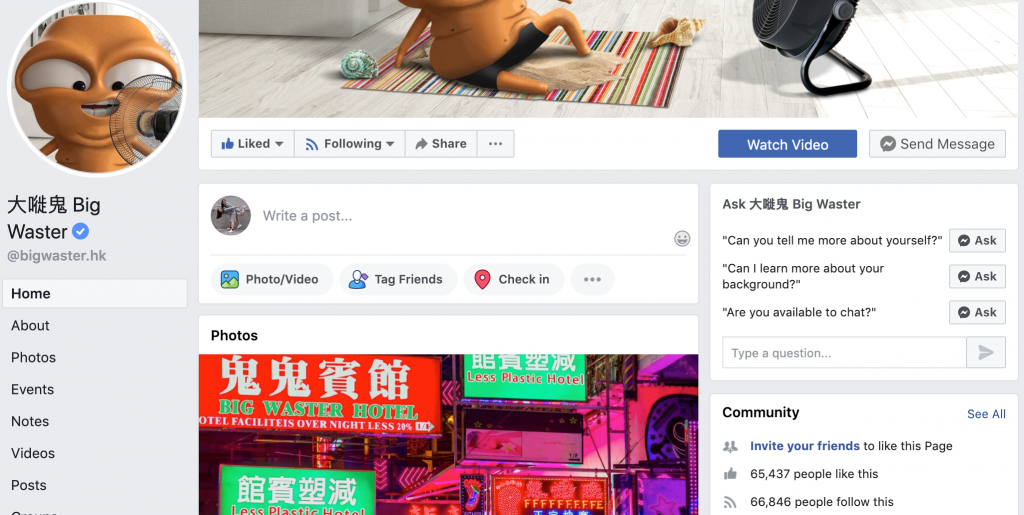 Riding on the built fan base of Big Waster, it maximizes its reach to potential audience and assisted in generating noises. In addition, it is easier and more direct for people to understand the message of the campaign through its social media platform.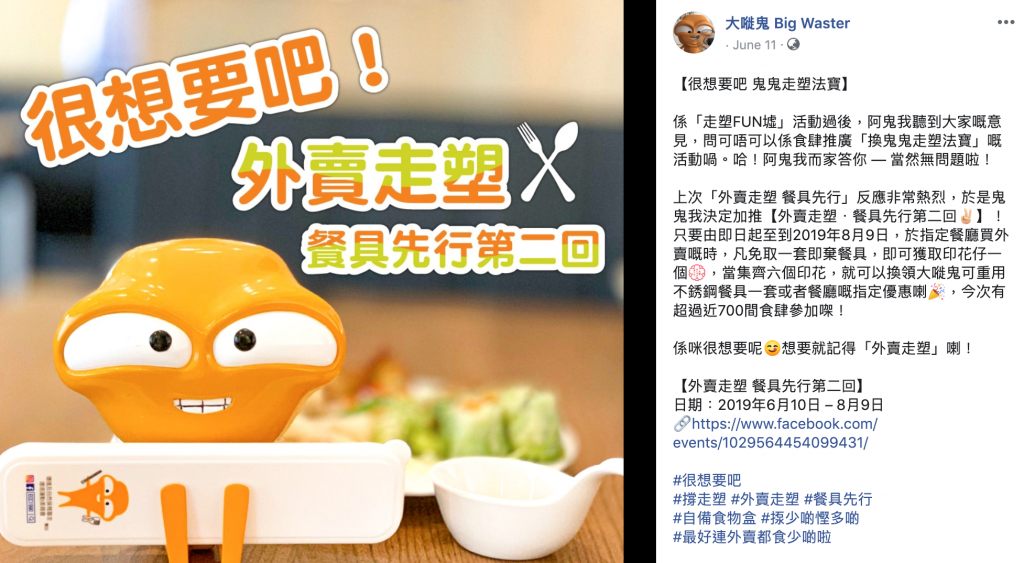 WHAT DOES IT TELL US?
It is noteworthy that Big Waster was originated from FWHK, which represented just food waste problem; yet the mascot has become the symbol of environmentally friendly acts and an advocate for campaigns launched by the Environment Protection Department.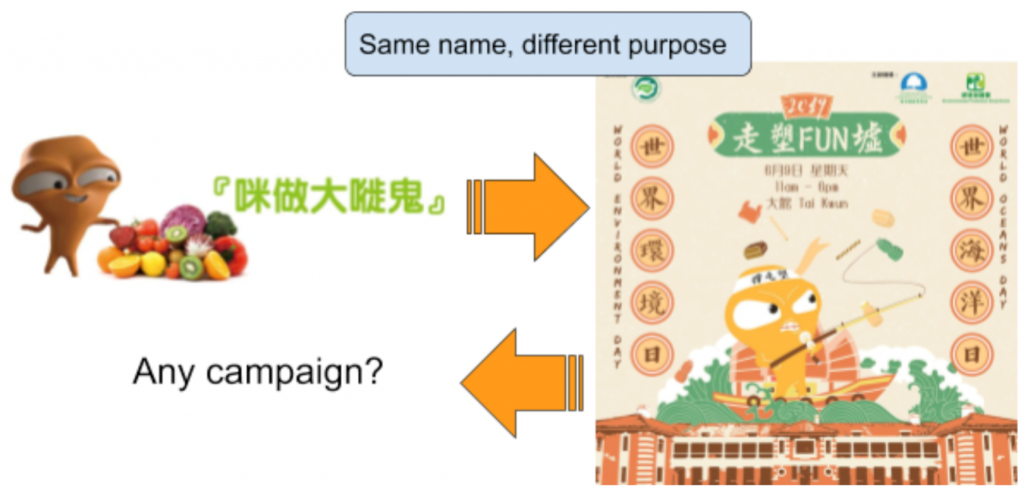 Another evident example of the role transformation is the "Energy Saving God" role of Big Waster. Back in 2015, Big Waster was also the mascot of "Energy Saving for All".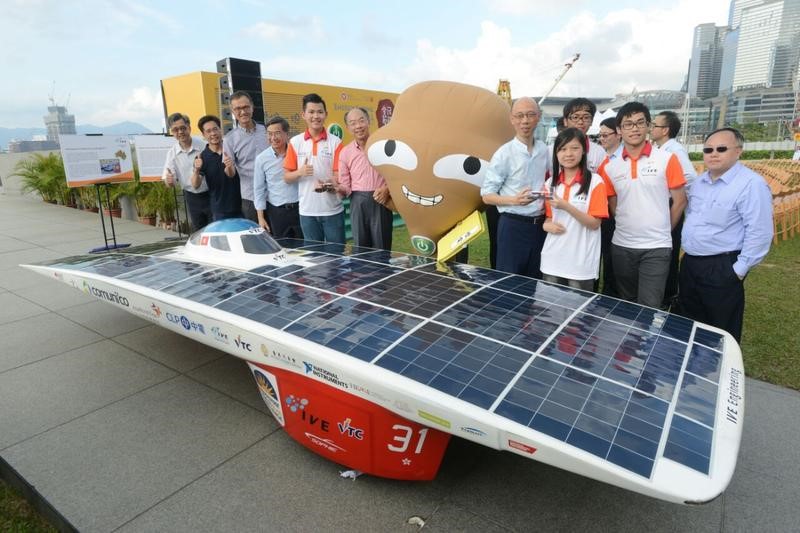 Big Waster is a great success, but we will see whether it works for every campaign.
References
[1] https://www.info.gov.hk/gia/general/201908/19/P2019081900287.htm?fontSize=1
[2] https://www.info.gov.hk/gia/general/201410/24/P201410241056.htm
[3] https://www.scmp.com/news/hong-kong/society/article/2185450/big-waster-anyone-how-hong-kong-government-departments-use
---