Changing old custom isn't that hard — "I'm FINished with fins" campaign

Written by: Tsui Sin Tung, Winnie
Back in the Chinese New Year, I saw a billboard on MTR which reminds me of the campaign they did in the past, "I'm FINished with fins".
The now well-known campaign was launched as a grassroot movement by Shark Savers in 2012, the organization later became a program of WildAid, giving them opportunities to collaborate with numerous international non-government organizations. The campaign emphasized raising socially acceptability on not eating shark fin soup as more than 70 shark species are at risks of extinction due to constant demand.
The campaign focused on three big shark fin trading hubs, i.e. Hong Kong, Taiwan and Singapore. Echoing with WildAids' mission of "when the buying stops, the killing can too.", The campaign featured hundreds of celebrities ranging from popular television artists, movie stars, singers to CEOs; national athletes and journalists. These public faces hid their cheerful slide with a solemn facial expression and covered their mouth as a sign of saying no to shark fin in black and white photography.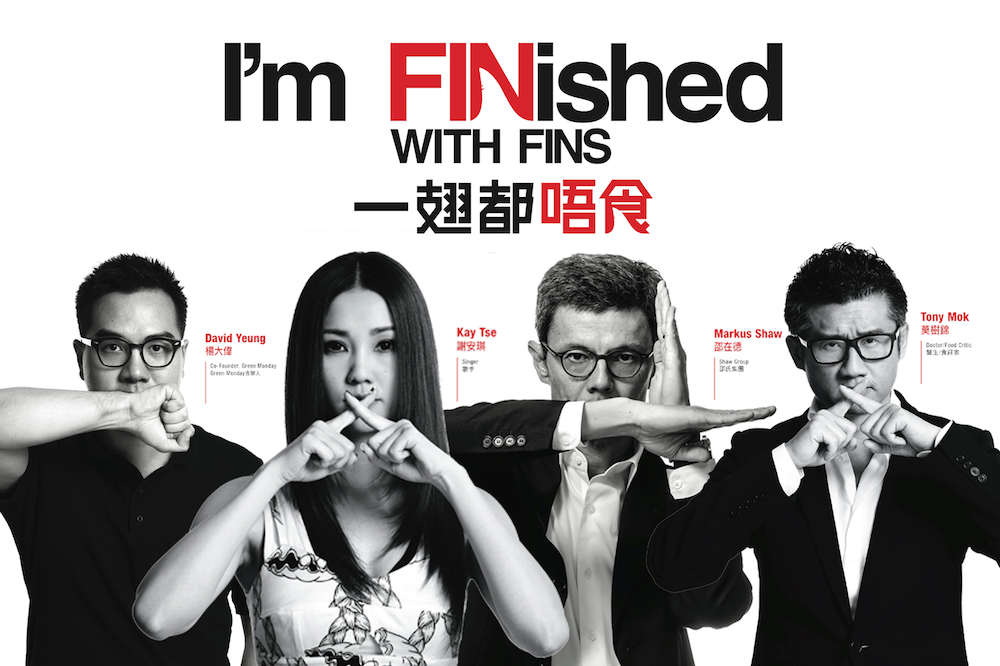 The campaign garnered immense response and impact in real life and online. The message reached 200 million Weibo users and 340,000 of them signed the "No Shark Fin" pledge to show their support (WildAid, 2017).
The campaigned ad was aired across 25 countries in major Chinese and international media channels like China's CCTV, National Geographic Channel, TVB, RTHK, I-Cable, RedBerry etc. (Two Fish Divers, 2013). The campaign even managed to persuade policymakers, as perspective, the Chinese government responded to the campaign by announcing the plan on banning shark fin in official reception dinners within three years while The Hong Kong Government banned serving shark fins products in official banquets in 2013. As for the business sectors, 24 airlines, three shipping lines and five hotel chains responded with their shark fin ban policies. According to the iResearch from WildAid, shark fin trade and consumption in the three cities had declined by 50% (WildAid, 2017).
The campaign's success could be attributed to three main reasons. Firstly, the star-studded campaign creates a sounding and effective message to the public. In traditional Asian culture, serving shark fins in banquets is a symbol of social status; having members from the higher social strata makes the message more persuasive, as they have a great influence in changing social norms. Secondly, collaborating with international NGOs provides the campaign with greater resources and connections, which gave the campaign significant international exposure. Thirdly, being able to push for policy changes signified the long-lasting impact of the campaign, with the governments leading the public on the reduction of shark fin consumption.
Despite the public awareness and impact, anti-shark fin campaigns in Asia still have a long way to go. Recent news reports revealed that shark fin smuggling and consumption trend are still on the rise. The persisting trend poses a new challenge for WildAid to tackle in the future.
Reference
Two Fish Divers (2013) Shark Savers campaign to stop shark fin soup consumption. (December 09). Retrieved from https://www.twofishdivers.com/2013/12/shark-savers-campaign-stop-shark-fin-soup-consumption/
WildAid (2017) Evidence of Declines in Shark Fins Demand China (pp. 1-21, Rep.). Retrieved from https://wildaid.org/wp-content/uploads/2017/09/SharkReport_Evidence-of-Declines-in-Shark-Fin-Demand_China.pdf.
---