Fashion's Quarantine Selfie Campaigns: Zara, Jacquemus and Gucci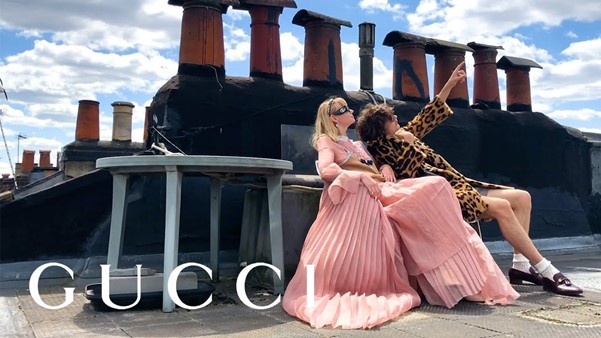 Written by: TSUI Yuen Shun, Audrey
As Covid-19 has resulted in city-wide lockdowns and stay-at-home regulations, many fashion brands had to find creative alternatives in showcasing their newest collections. Spanish fast-fashion brand Zara was one of the first to join the new advertising trend with their selfie campaign. This method only requires the model, their smartphone or camera, any lighting devices available at their homes, and the outfit which was couriered to them.
The result was Zara's 2020 Spring Summer collection, which caught traction on Twitter due to many of the "selfies" with odd artistic choices. One commenter wrote, "My friends have always got lovely clothes from Zara but whenever I go on the website I get this? Am I doing something wrong?". This tweet crticizes the images below: first, a model balancing a book on her head, hands on her waist; and second, with the model peeking out from her stairway, outfit barely seen, and a towel turban on her head. The campaign's unique approach and humorous attitude, with the timely demonstration of how the outfits can be styled in our home-bound lives provided both informational and emotional appeal for audiences, which ultimately lead to the increase of curious netizens browsing the Zara webpage.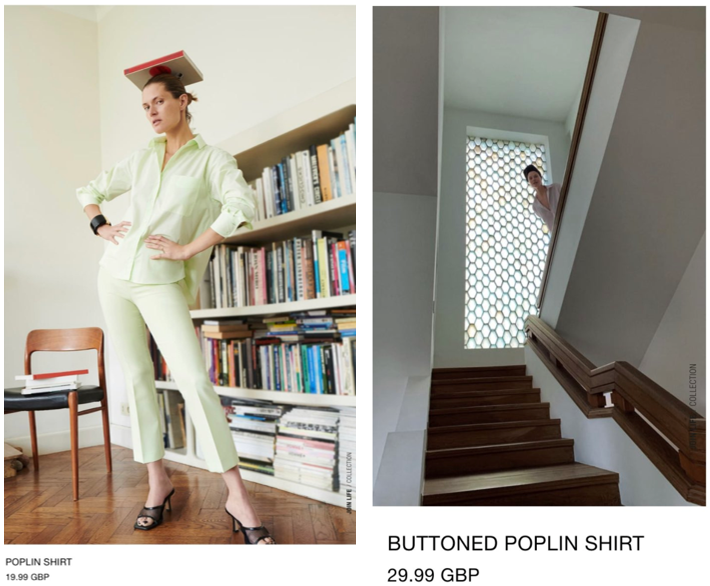 On a similar note, Jacquemus' Spring 2020 Campaign, titled "Jacquemus at Home" featured super-model Bella Hadid posing in a white room. She later shared the process of the photoshoot, captured by photographer Pierre-Ange Carlotti via Facetime. The entire shooting only involved Hadid, Carlotti and Simon Jacquemus, the creative director of the brand. The unedited photos creates a sense of authenticity and rawness which is rare for luxury brands, and is effective in appealing to new audiences by making them feel involved with the brand.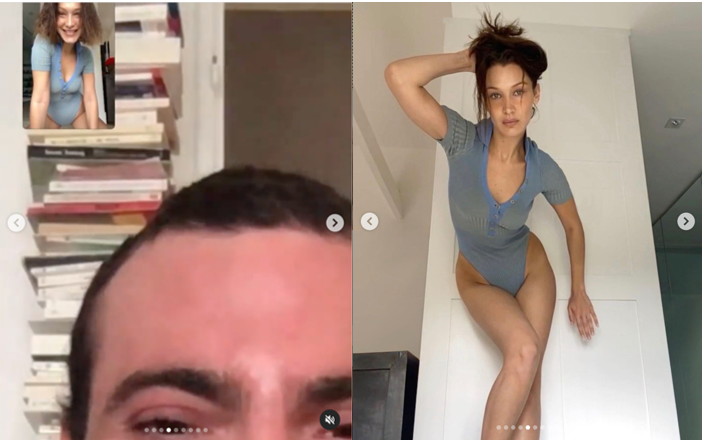 Gucci took a different approach for their 2020-2021 Fall Winter Campaign, where they requested models to take videos alongside photos, under the coordination of art director Christopher Simmonds. Gucci's creative director Alessandro Michele noted in AnOther Magazine, that the models were handpicked "for their uniqueness…Because they radiate joy and cheerfulness", to express the message of finding hope and beauty even during the quarantine life. The result are the visually intriguing images of the models wearing Gucci in their daily activities. This campaign is currently used in Gucci storefronts worldwide, and consists of the images overlaid with the Gucci label, with the models' credited below as both the model and the photographer. This campaign proved that "selfie campaigns" could be created with equal professionalism as traditionally photographed campaigns.
This advertising trend has exceeded the fashion industry and even reached television. In May, L'Oreal released the first selfie TV advertisement where American actress Eva Longoria demonstrated how to dye her hair on her iPhone. Due to its ease of access and production, the "selfie campaign" is a desirable way of creating connections with audiences. With the advancement of technology, and benefits of requiring less resources, it is safe to assume that "selfie campaigns" will continue to be relevant in the near future.
---