HomelessFonts: A Meaningful Campaign That Turns the Homeless to Artist Under Low Budget

Li Pui Ching, Venus
Who would have imagined that words written by a homeless person could be turned into fonts that are sold online? Arrels Foundation, which supports 1,600 homeless people in Barcelona, collaborated with advertising agency The Cyranos McCann to create this creative and meaningful campaign, winning applauses from netizens and media around the world. Initiated in 2014, the "HomelessFonts" Campaign allows people to buy typefaces created by homeless people on its website, aiming to raise awareness of homelessness and give a sense of worth and significance to its participants, many of whom have given up hope in their lives (Homeless Fonts, 2014).
The 3-minute promotional video[1] has conveyed a clear message, "Every human being's writing is unique, yet the homeless write signs that no-one wants to see". The homeless people's writing on their cardboards were perceived as miserable symbols towards them; but after joining the "HomelessFonts" campaign, their writing has turned into a powerful tool that can change their lives. The homeless people were asked to participate in a calligraphy workshop and their writings were turned to functional fonts. Individuals and brands could then buy their fonts at homelessfont.org to use the typefaces for design and advertising purpose. Not surprisingly, the innovative execution has led to excellent results. "HomelessFonts got over 30,000 downloads, 200,000 visits in the first week from 170 different countries and 37% more funds raised," said Marc Blanco, the campaign planner (ADC Global, 2015). It even won a bronze prize in the Integrated Campaign category of Clio Awards 2015.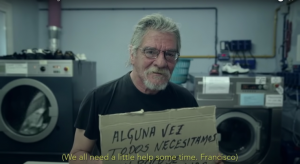 Screencapture of Homeless Fonts Promotion Video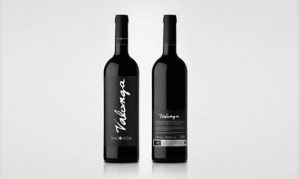 Valonga olive oil bottle with Homeless Font
With such overwhelming results, people might think that the campaign is a huge production. In fact, "HomelessFonts" does not involve any media investment and celebrity endorsement. The soul of the campaign, homeless people, actually worked as volunteers, but of course they are benefited from the money raised. Also, the major production cost only included agency fee, video production fee and website set-up cost. There are definitely some important take-aways from this low-budget campaign.
Firstly, "HomelessFonts" identifies the audience and the homeless' true needs. The planners have noticed an opportunity for homeless handwriting in the market as brand humanization is becoming more common. On one hand, buying typefaces created by homeless people could be considered as an action to display corporate social responsibility, which in turn improves brand reputation (Kelley, Hemphill & Thams, 2019). On the other hand, Arrels Foundation has understood that many homeless people have low sense of self-worth and are attached to negative labels. By teaching them to turn their skills into money will bring more social impact than just giving them money
Secondly, the campaign demonstrates excellent storytelling. Arrels Foundation has turned an otherwise overlooked medium – the cardboard sign-  to unique, personal expressions in the promotional video (Rizzo, 2014). Before purchasing the typefaces, customers can also read the font owner's personal story, enhancing emotional touch on the product. Storytelling is definitely what fundraising campaigns should work on if they aim for effective awareness enhancement and perception change.


Anne Maria's Font at HomelessFonts.org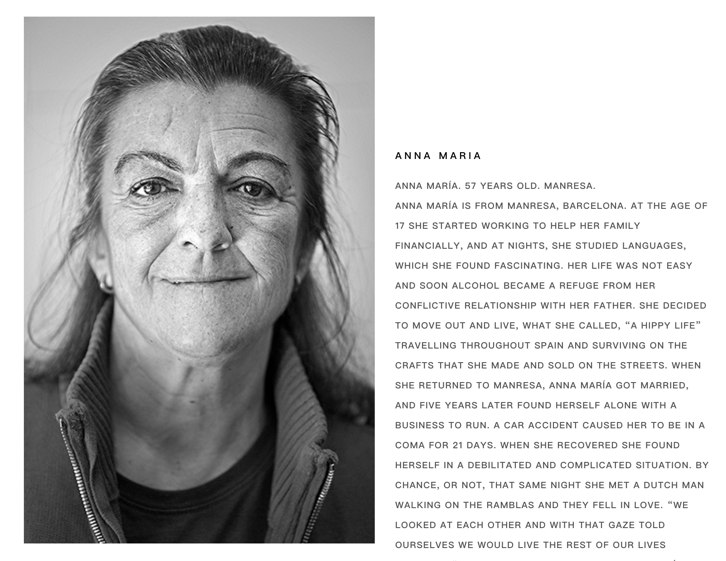 Anne Maria's Personal Story at HomelessFonts.org
Last but not least, there are some learnings for low-budget social campaigns:
Be creative: that's how you can earn free press coverage.
Go for digital: digital marketing is a low-cost and highly sharable way to connect with audience.
Try to target big brands: big brands need great CSR ideas too.
Find volunteers: KOL is not a must. Suitable volunteers can make great social impact too.
To sum up,being small does not stop "HomelessFonts" from making a big effect on the issue of homelessness. "HomelessFonts" is definitely a creative way to challenge the public's perception of homeless people.
Reference
ADC Global. (2015). The Homeless Create Workable Fonts. ADCGlobal.org. Retrieved from http://adcglobal.org/behind-the-cube-homeless-fonts/
Homeless Fonts. (2014). Arrels presents Homeless.org, a website selling fonts created by homeless people. HomelessFonts.org. Retreived from https://www.homelessfonts.org/press/
Kelley, Keith James, Hemphill, Thomas A, & Thams, Yannick. (2019). Corporate social responsibility, country reputation and corporate reputation. Multinational Business Review, 27(2), 178-197.
Ricco, Marica. (2014). Homeless Fonts: Impact, Story, Design. LinkedIn. Retreived from https://www.linkedin.com/pulse/20140729235343-61421567-homeless-fonts-impact-story-design/
[1] HOMELESSFONTS.org YouTube Video: https://www.youtube.com/watch?v=NhT63AB_wsc
---