How does the museum industry navigate in the COVID-19 pandemic with marketing?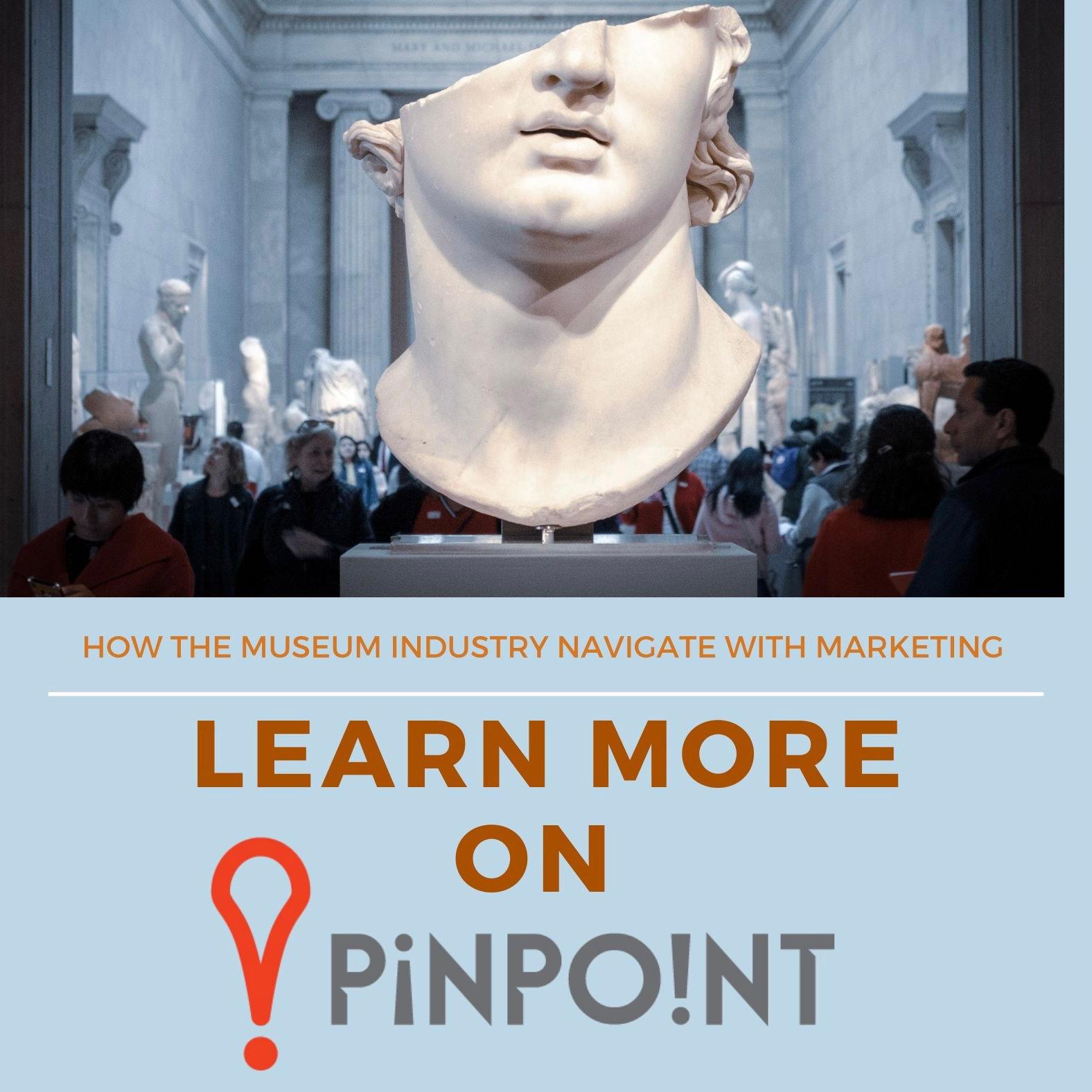 Do you still remember the last time you walk into a museum? Visiting museums is a visual feast of art. However, in the extraordinary 2020, museums around the world were struggling to cope under COVID-19 lockdowns. Have you ever wondered how brilliant museum industry survived behind locked doors? Do you know that the collections were also experiencing quarantines just like us?

Credit: L'Arlésienne: Madame Joseph-Michel Ginoux (1848–1911), Vincent van Gogh (with mask by Nathalia Reys)
What difficulties are museums facing?
According to a recent survey conducted by the International Council of Museums, about 95% of all museums around the world were closed due to the coronavirus. Art institutions reacted differently to having their doors shut. Some had to put staff on leave; some laid off up to half of their employees (Dege, 2021).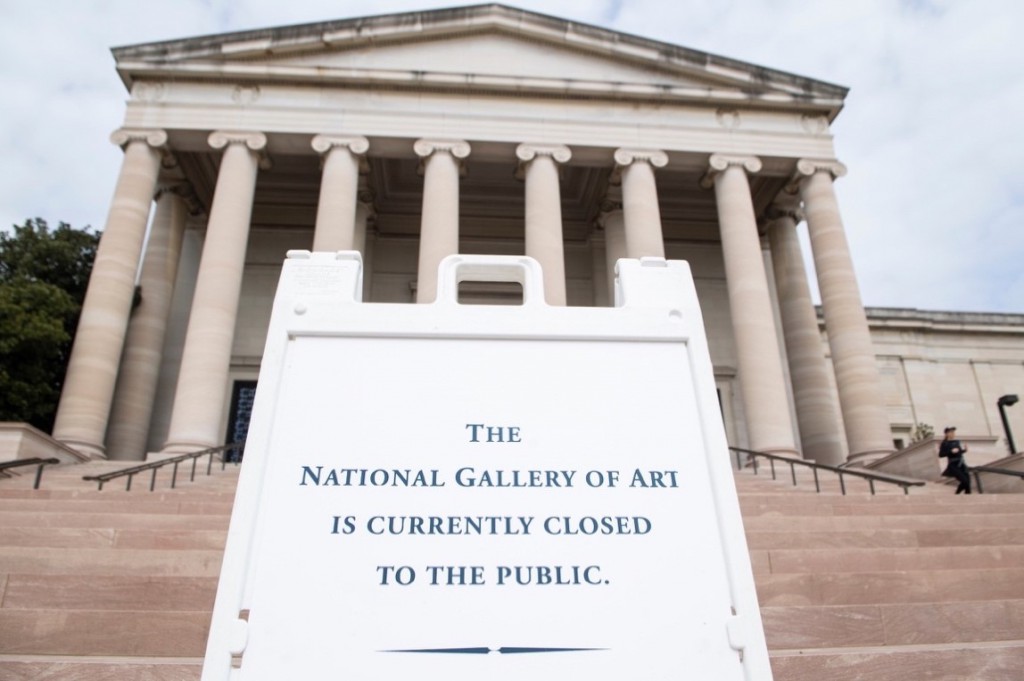 (Credit: Tom William)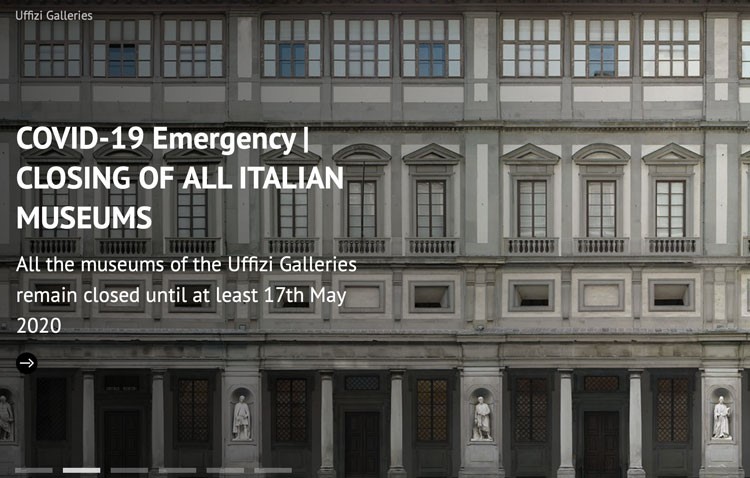 (Credit: ANGERIA RIGAMONTI di CUTÒ)
In addition to financial loss, there were other difficulties related to collections care. That is, the collections, artifacts, and other cultural heritage would also need to be "quarantined." Why? Surfaces such as metals and rigid plastic showed greater persistence of the COVID-19 virus, allowing more contamination. However, it's damaging for the cultural relics to be cleaned with disinfectants and alcohols. So, the best way to protect them is to keep them on "quarantine" and suspend public visits. (Museums and COVID-19, 2020).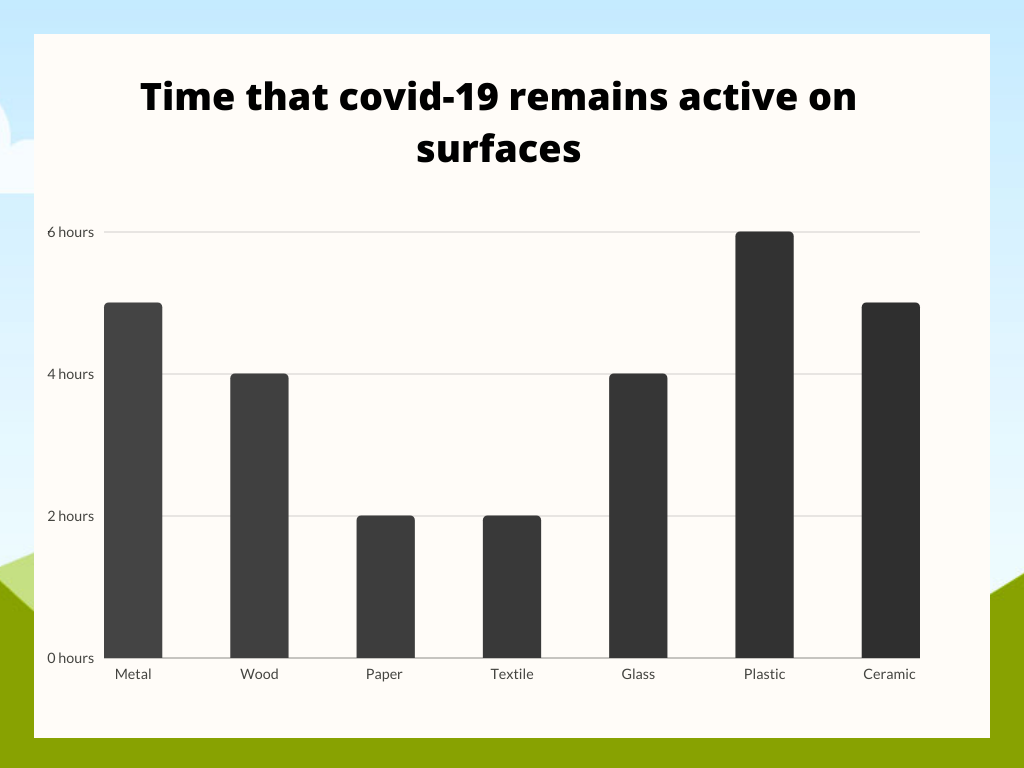 (Credit: Nathalia Reys.)
(Credit: https://youtu.be/Lf8o-WTks9A)
Though, safeguarding the collections by "lockdown" while keeping the museum survive could be extremely challenging. To keep the public interested while the pandemic, museum used marketing to reinforce values and create a force of togetherness.
What is Resonance Marketing?
Under the despair of Coronavirus, marketing helped reinforce and convey the organization's values and mission to the public. The relationship between marketing and customer behavior could be based on emotions, as customers often make decisions based on feelings instead of logic (Sherman, 2017). One of the excellent marketing strategies based on emotional attachment is Resonance Marketing.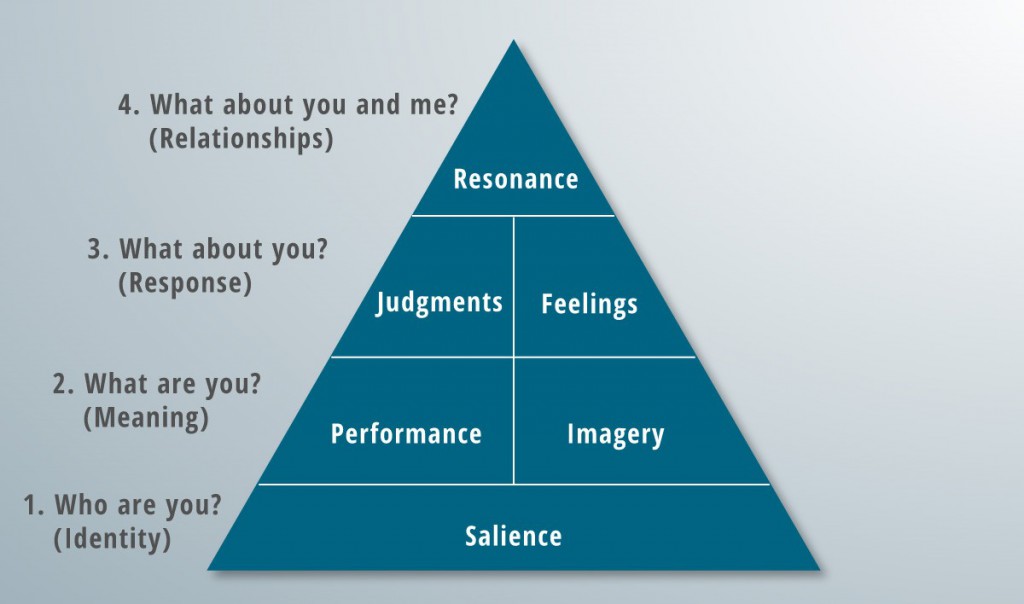 (Credit: Cory Schmidt)
Resonance marketing is to market by creating an emotional connection between the organizations and audiences. Essentially, the museum can resonate with the audience when it establishes a relationship with the audience. After the audience understands the background of an exhibition, thinks about related issues, dialogues or ideas in this context, and deepens their understanding of it, a kind of interaction is formed (Errico, 2017).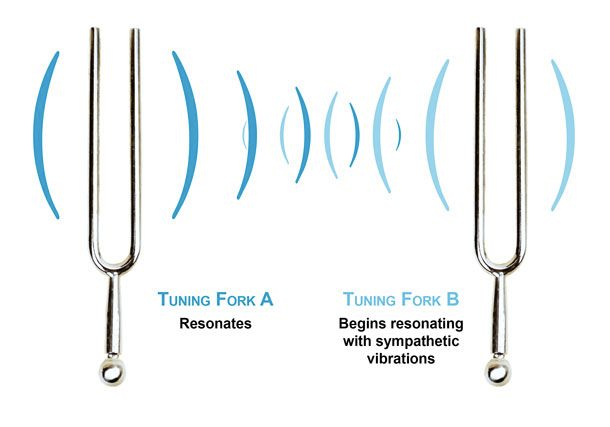 (Credit: Anthony Stephen)
The museum items should allow a wide range of audiences, no matter what the background or angle of view, to establish associations. These items should be like a sound, remembering echo or reverberation in the ears of the audience. (Ericco, 2017; Greenblatt, 1990).
How consumers value shift pre- and during the pandemic?
During the pandemic, a time filled with uncertainty, a brand's specific value has become more important. Consumers' expectations for a brand have also changed. While in the pandemic, these three customer values are obviously stronger than before: Caring (75%), Safety, and Dependability (both 73%). (Danziger, 2020). 75% of consumers believe brands have a responsibility to help out during the pandemic. They are looking for entertainment and storytelling provided by the brands as it relates to COVID-19 (Metrix, 2020).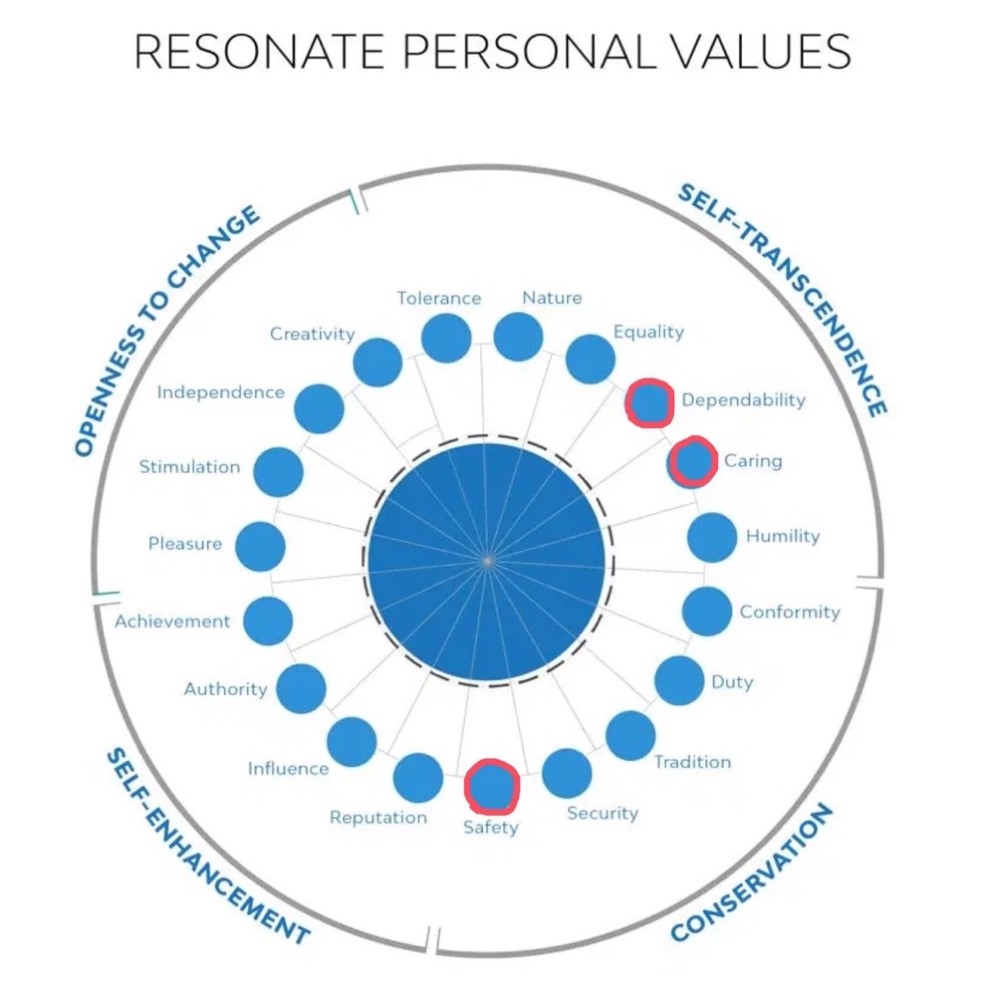 (Credit: resonate.com)
Museums would need to engage their audience with a message that reflects their values and interest. The following museums are great examples for non-profit organizations on using Resonance Marketing to promote and convey messages to their audience.
 Van Gogh Museum
The COVID-19 pandemic has had a significant impact on people's lives. Many people are facing challenges that can be stressful, overwhelming, and cause negative emotions. Public health actions, such as social distancing, are necessary to control the spread of COVID-19, but they can also make people feel isolated and lonely which would increase stress and anxiety (Coping with stress, 2021). To help people cope with the stress, the resonance strategy of the Van Gogh Museum has focuses on enhancing the courage of audiences.
(Credit: https://www.vangoghmuseum.nl/en/art-and-stories/stories/van-gogh-keeps-the-faith)
Van Gogh Museum has created a stimulating story of Van Gogh to encourage the audience to keep the faith and look on the bride side during this hard time – telling them that the experience faced by Van Gogh in the 19th century can still be applicable to us in 21st century. (Van Gogh keeps the Faith, n.d.).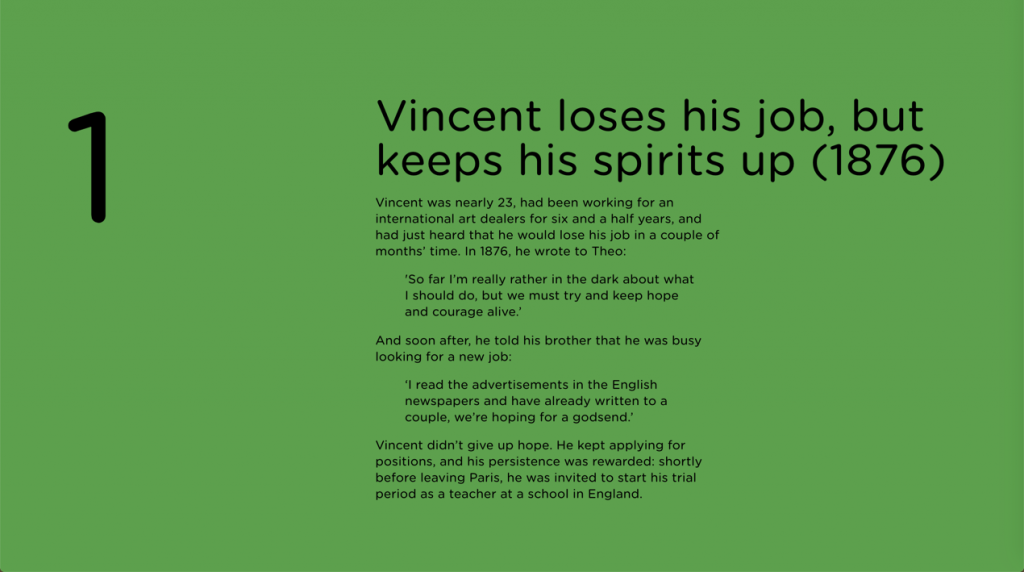 (Credit: https://www.vangoghmuseum.nl/en/art-and-stories/stories/van-gogh-keeps-the-faith)
The story has described the challenges and difficulties Vincent faced during different period of his life and how he never lost his spirit and heart in trying to follow his passion. It encourages audience during the dark times, that even with the hardship, we should not lose hope and faith – just like Vincent never lost hope in art. (Van Gogh keeps the Faith, n.d.).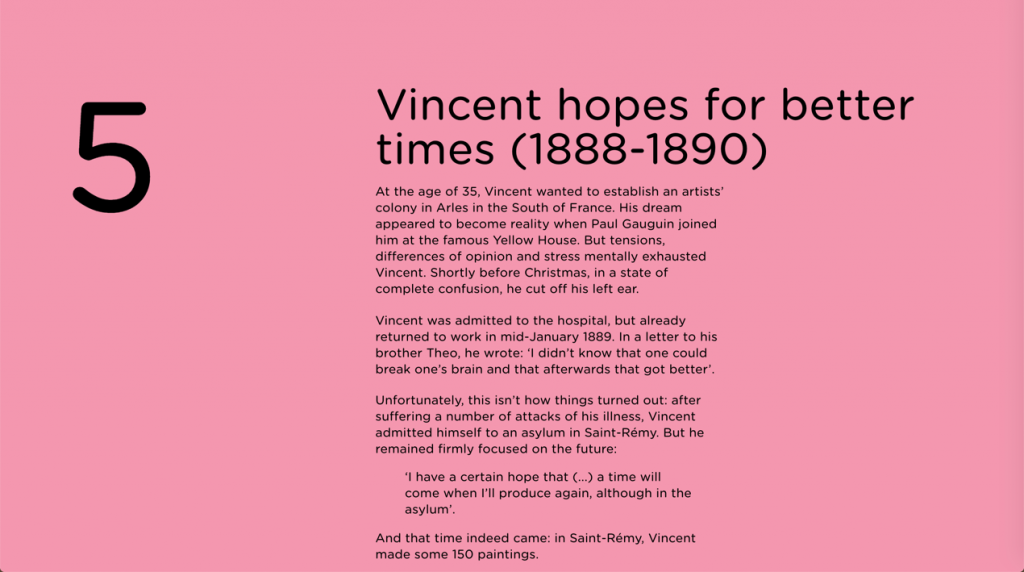 (Credit: https://www.vangoghmuseum.nl/en/art-and-stories/stories/van-gogh-keeps-the-faith)
The story resonated with the audience by illustrating the dark times of Van Gogh and encouraging art lovers with his story. Not only does it successfully promote the work and story of the artists to colder audience by applying in the current time, it also retained the existing audience, Van Gogh arts' lovers, by creating an emotional attachment by emphasizing in empathy.
Hong Kong Museum of Art
With the outbreak of the fourth wave of the epidemic in Hong Kong, the social-distancing measure was extended again. And museums had to lockdown again. For Hong Kong residents who are accustomed to going out to socialize, home isolation is painful and boring. Hong Kong Museum of Art has successfully captured the hearts of the audience with humorous resonance marketing.
(Credit: Hong Kong Museum of Art)
They posted a "Look and Find Hand in Hand with the Artists " video on their public homepage of Facebook, combining artworks with popular games. This has shown beautiful paintings as well as brought fun to the audience, encouraging viewers fighting the epidemic at home to learn to entertain themselves even in difficult times.
National Taiwan Museum
National Taiwan museum launched the "Tomorrow will be better"「明天會更好」campaign aiming to celebrate 2021 Chinese New Year – positioning on the theme of "Better Future", saying goodbye to disastrous 2020, and saying Hello to the better future.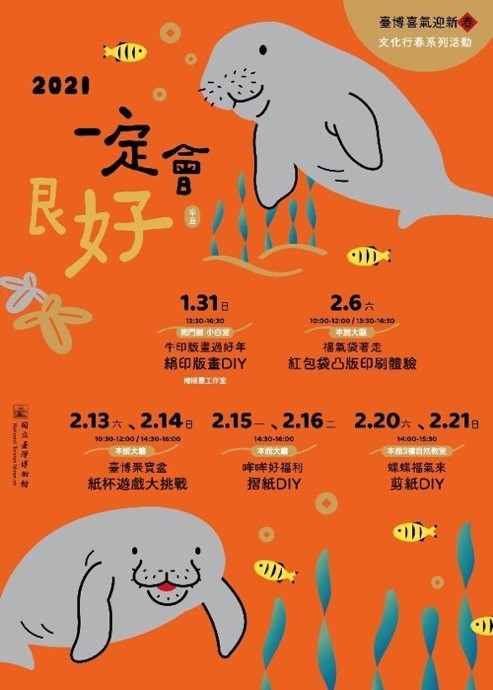 (Credit: https://event.culture.tw/NTM/portal/Registration/C0103MAction?useLanguage=tw&actId=12130&request_locale=tw)
Children worldwide has been staying home and taking online classes, without practical experience it can be prohibit the psychological and physical growth for children. National Taiwan Museum has recognized the problem and designed specific activity for children, which involves DIY paper cutting and serigraphy accompanied with multiple games, encouraging children to participate in the campaign.
Just like the Van Gogh museum, National Taiwan Museum engage audience by creating a sense of hope, but the museum also set apart with the Dutch museum by involving the younger audience – not just as a spectator, but also a creator.
National Museum of China
National Museum of China, together with the Chinese Artists Association and the Chinese Calligraphers Association, jointly organized the "Anti-epidemic art exhibition" on the fight against COVID-19 in August 2020. Artists used art to record the battle against the coronavirus and draw out the collective memory of Chinese people fighting the epidemic.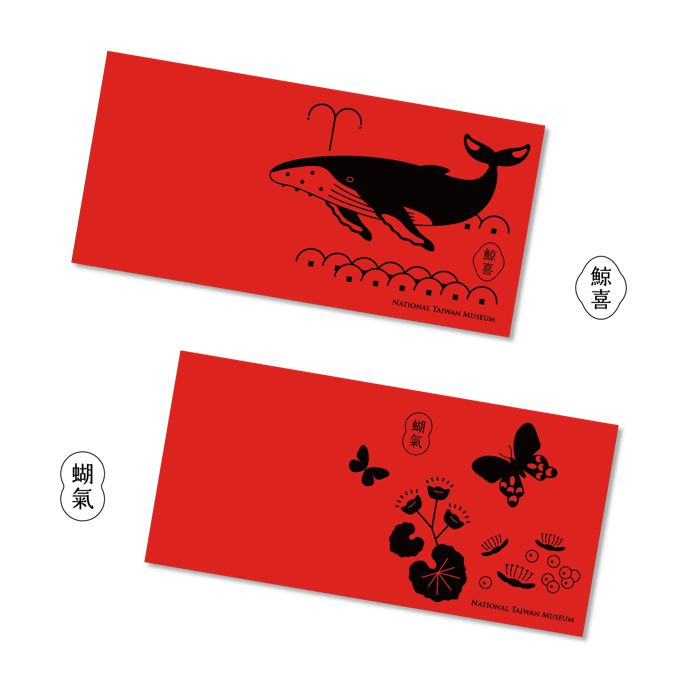 (Credit: Shanshan Wang/CNN)
Being the first country battling with COVID-19, Chinese has had blood and tears in 2020. This exhibition is held to remind Chinese people the hardship in defeating the epidemic and act as a memoir of the frontline medical workers. The arts vividly portrayed the life scenes of brave, unyielding, and fight against the epidemic with solidarity.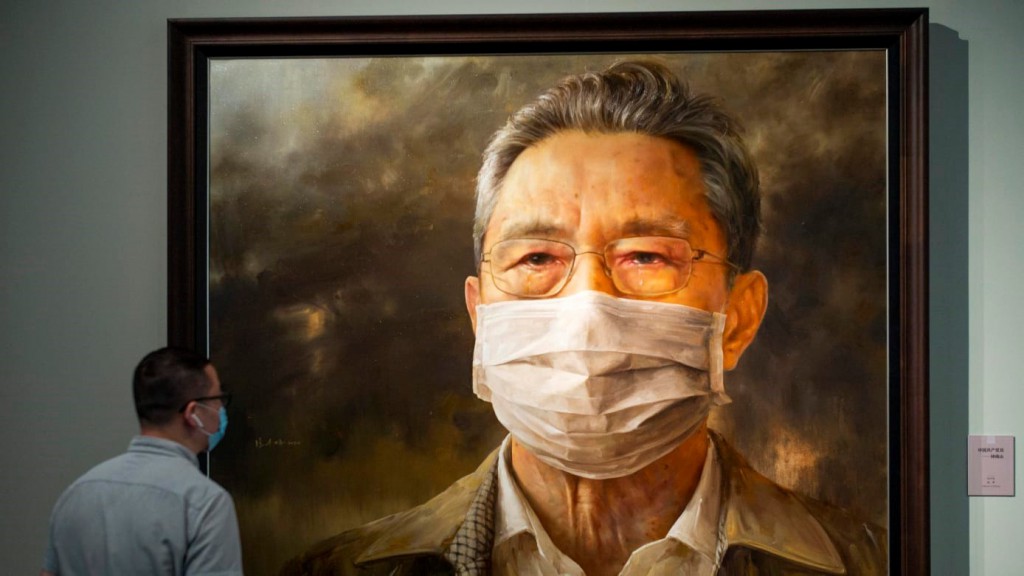 (Credit: Shanshan Wang/CNN)
Many citizens who have visited the museum were moved by the art pieces and the spirit of solidarity, making audience reflect on the tough time. With the exhibition the National Museum wins the attention and the heart of their audience by emphasizing on the collective memory and the cohesion in fighting COVID – as they market on the history and the idea of community, instead of just solely the work itself.
Urahoro Town Museum
To preserve the information and record history of COVID-19, many Japanese museums have collected masks, brochures and, leaflet about Coronavirus. The historical museum of Urahoro has called on the public to provide supplies related to the epidemic, which has collected about 200 items, including delivery coupons, cloth masks, brochures about coronavirus, and other daily necessities.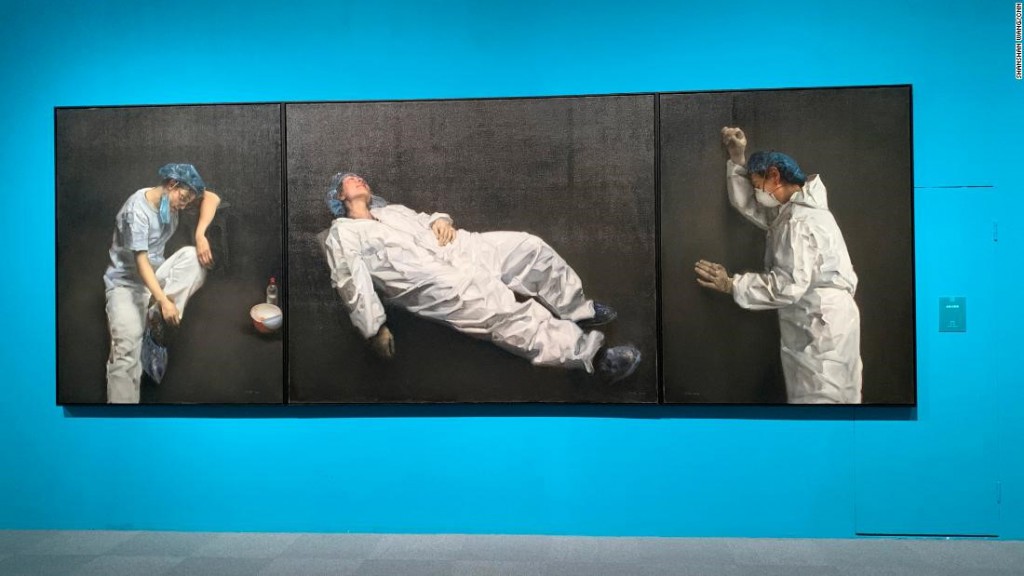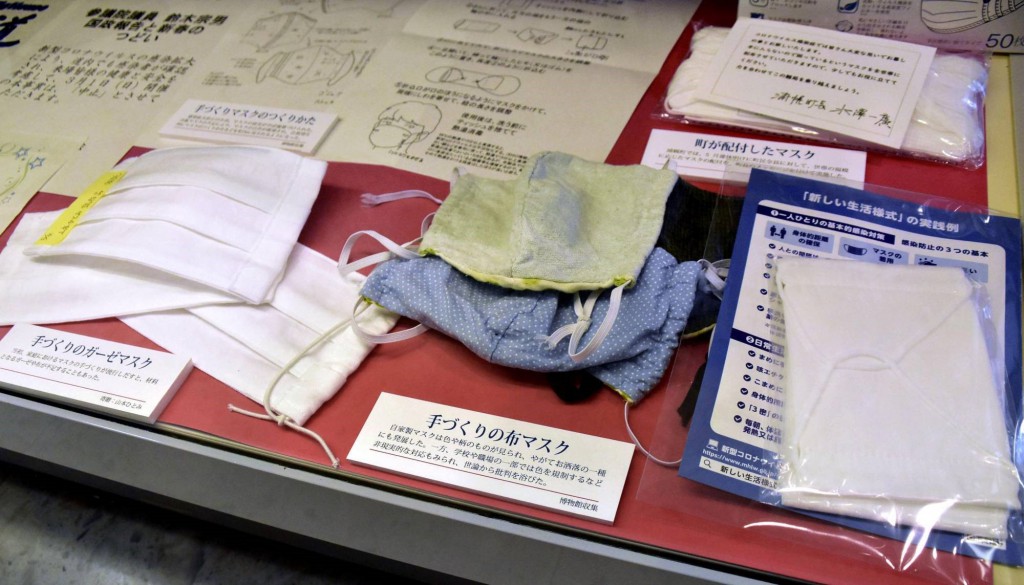 (Credit: KYODO)
This museum can provide valuable information about COVID-19 and record the history to the next generation, inspiring visitors to be unity and fight the epidemic together. Similar to what the National Museum of China did, it positions its value on being the witness of history and draw audience by marketing the importance of its value.
Reference:
Dege, S. (2021 February 02). Art behind locked doors: How galleries continue to suffer during COVID-19. Deutsche Welle.
https://www.usatoday.com/story/travel/2020/07/22/coronavirus-museums-fear-permanent-closing-pandemic/5490482002/
Museums and COVID-19: Reopening and their challenges. (2020 August 21). Museum Week MAGAZINE. Retrieved February 28, 2021, from https://museum-week.org/magazine/2020/08/21/museums-and-covid-19-reopening-and-their-challenges/
Sherman, E. (2017 May 05). Resonance Marketing Is How You Should Approach Promoting Your Business. Inc. https://www.inc.com/erik-sherman/your-marketing-needs-a-good-dose-of-resonance.html
Errico, C. (2017 February 02). Museum Questions: Resonance and Wonder. MUSEUM STUDIES AT TUFTS UNIVERSITY.
https://sites.tufts.edu/museumstudents/2017/02/02/museum-questions-resonance-and-wonder/
Greenblatt, S. (1990). Resonance and wonder. Bulletin of the American Academy of Arts and Sciences, 43(4), 11-34.
Danziger, P. (2020 September 21). How Consumer Values Have Shifted in Covid Pandemic Challenging Brands To Find Their Purpose. Unity Marketing. https://unitymarketingonline.com/find-corporate-purpose-in-consumers-values-which-have-shifted-in-the-covid-pandemic/
Metrix, A. (2020 March 19). How Brands Are Navigating the COVID-19 Pandemic. ACE Metrix. https://www.acemetrix.com/insights/blog/how-brands-are-navigating-covid19-pandemic/
Van Gogh Keeps the Faith. (n.d.). Van Gogh Museum. Retrieved February 28, 2021, from https://www.vangoghmuseum.nl/en/art-and-stories/stories/van-gogh-keeps-the-faith
北海道十勝郡浦幌町. (n.d.). 町立博物館|庁舎・施設案內|北海道十勝郡浦幌町. Retrieved February 28, 2021, from https://www.urahoro.jp/chosya_shisetsu/kokyoriyo/museum/
Taiwan Expo Celebrates Chinese New Year 2021 Cultural Spring Festival Series Activities. (n.d.). Retrieved February 28, 2021, from  https://event.culture.tw/NTM/portal/Registration/C0103MAction?useLanguage=tw&actId=12130&request_locale=tw
眾志成城–抗疫主題美術作品展. (n.d.). Retrieved February 28, 2021, from http://www.chnmuseum.cn/portals/0/web/zt/202007zzcc/
抗疫主題美術作品展在中國國家博物館開幕. (n.d.). Retrieved February 28, 2021, from https://cn.chinadaily.com.cn/a/202008/01/WS5f2507d5a310a859d09db755.html
---