Just… why is Brown Sugar Bubble Milk everywhere!?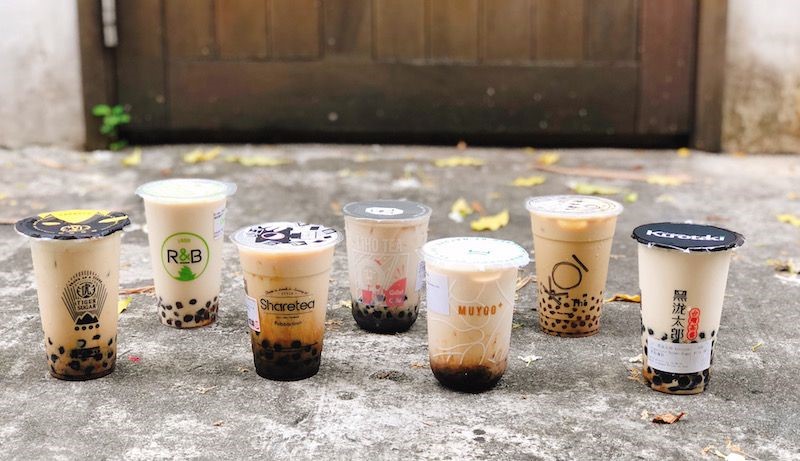 The Taiwanese drink went viral in Hong Kong and took over local streets and Instagram feeds with its visuals and flavors – how was this frenzy started?
Last summer, a particular street in Causeway Bay was flocked by legendary long queues in the steamy weather. Meanwhile, eye-catching "tiger stripes" cups spammed social media every day, as netizens debated if it's worth the wait.  Originated from Taiwan, bubble tea has become one of the most popular drinks among Hong Kongers. Improved and innovative flavors are introduced to attract customers to make repurchases. During the past summer, the beverage has made a great leap in terms of its visuals and flavor with the introduction of tapioca bubbles cooked with brown sugar syrup in fresh milk. The chic appearance and refreshing taste resulted in the long queues as well as numerous "check-ins" on social media.
A recent research showed that tea drinks consumption in Hong Kong has increased from 38.7 million cups to 45 million cups in 2016. It is projected that the number will be close to 50 million in 2021, which illustrates the prevalence and popularity of tea drinks locally. (B&S International Holdings Limited, 2018)
Looking at this latest trend, this article will not be a food critique, but an analysis on the bubble milk tea market in Hong Kong using the 5Ps marketing approach — Product, Price, Promotion, Place and People.
Product
Although various brands are selling brown sugar bubble milk, each brand has its own unique feature that satisfies different desires of customers and thus stands out and survives among the competitive market of Taiwanese beverages.
Tiger Sugar (老虎堂) has strong, artistic visuals with their iconic "tiger stripes", which is the effect of adding brown sugar syrup on the sides of the cup. The emphasis on appearance satisfies customers' desires to post aesthetic pictures on Instagram. A notice board is even placed at the store's counter, reminding customers that taking a picture of the drink should be the first step upon receiving the product.
On the other hand, Happy Holidays' (幸福週末) flagship product is brown sugar bubble milk made with unique ingredients — sea salt and instant fried bubbles, which creates better taste and lighter texture.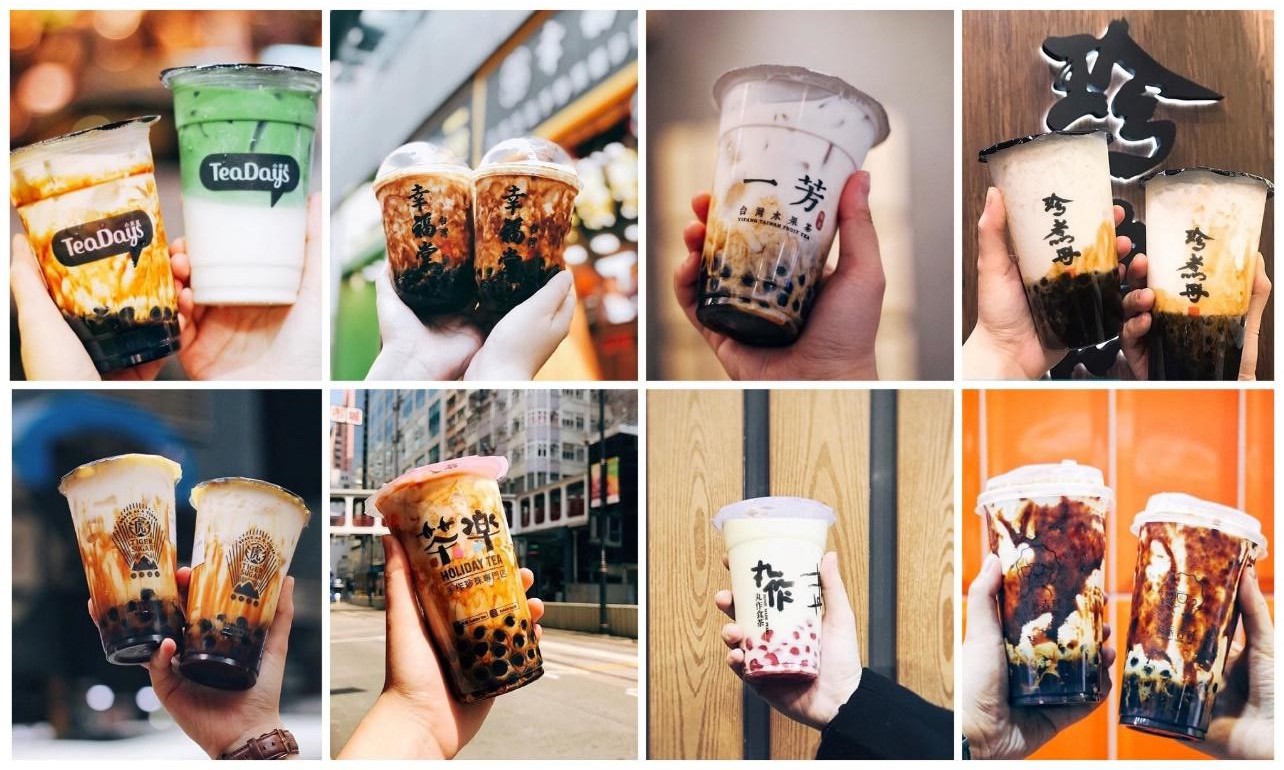 Apart from the Brown Sugar line, Happy Holidays and YiFang Taiwan Fruit Tea (一芳) has other fresh tea product lines, including flavoured teas, fruit teas, and traditional tea. According to a report by Allied Market Research, the fruit flavor bubble tea segment is estimated to grow more rapidly, due to its high consumer preference, diversity in flavor, and high nutritional value. (Doshi & Sharma, 2018).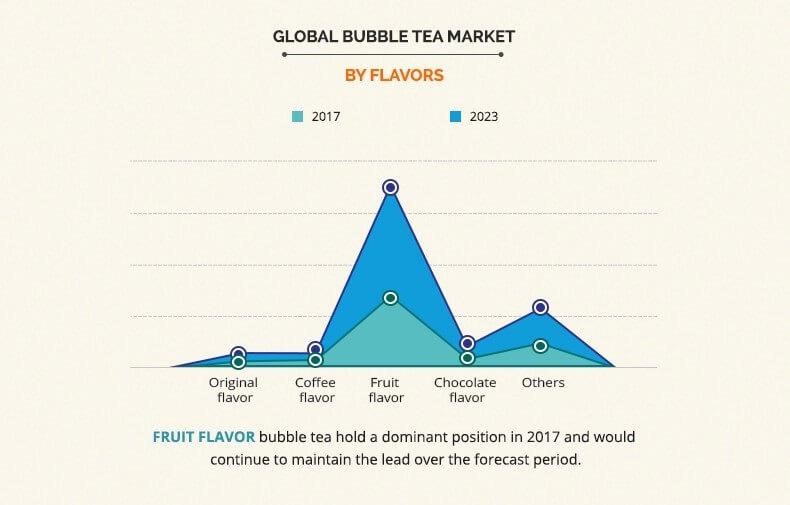 Price
The Brown Sugar Bubble Milk normally sells at around $30, adopting premium pricing which is 50% more expensive than normal bubble tea. The higher price implies a higher perceived quality, and some brands have emphasized their imported or handmade ingredients to justify the price. Hence customers are willing to pay a higher price and accept longer waiting time. Not only are they queuing up to get a taste of the premium ingredients, getting their hands on the city's hot topic also satisfy their other desires, particularly to boost their self-image by showing their trendsetter roles on social media.
Sales promotions are seldom provided by market leaders. But less famous shops often use discount promotions during new shop launch or holidays to attract media coverage and thus new customers. For example, Mo Tea Pro (墨茶道) had "buy one get one 50% off" promotions during the new year holiday period.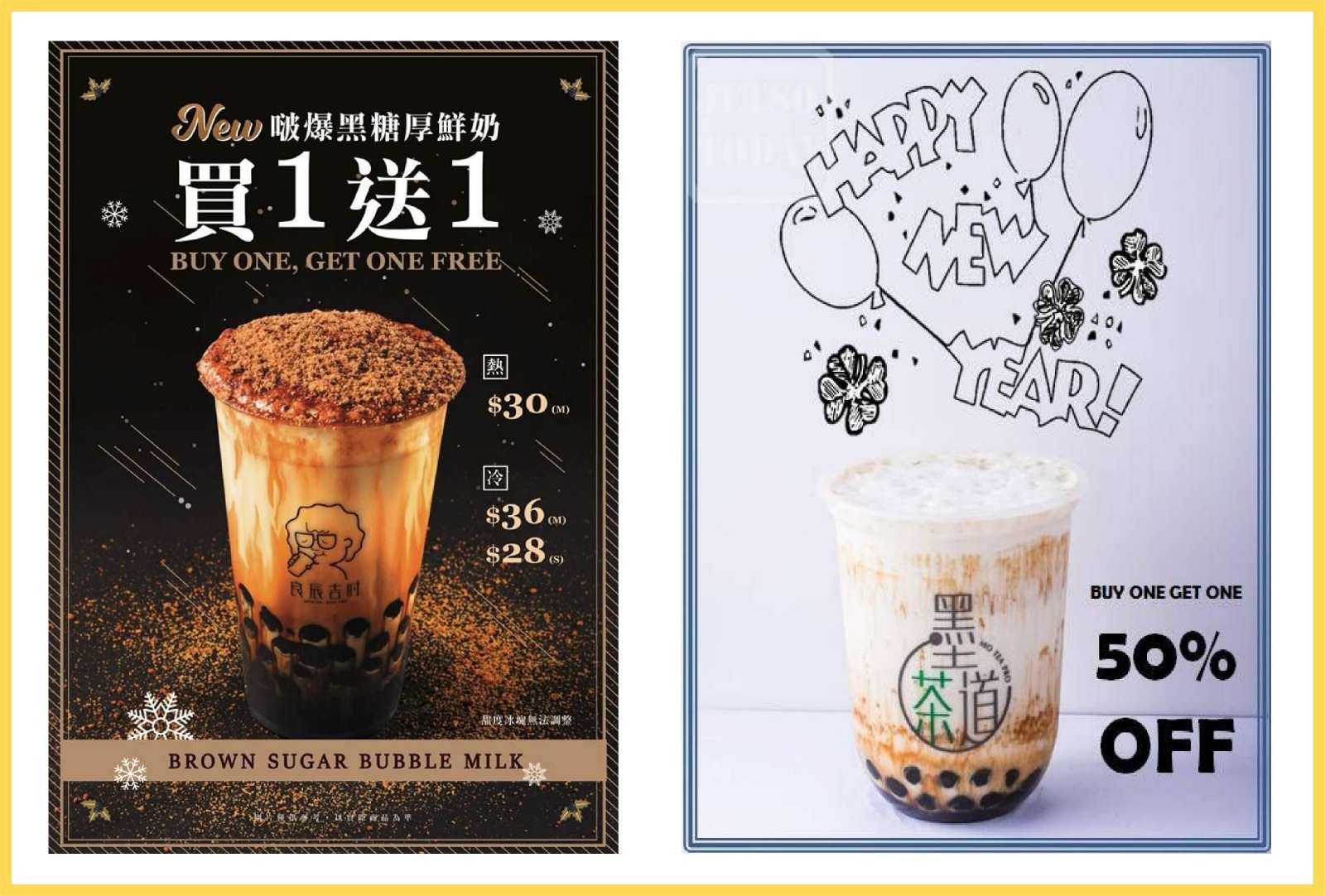 Promotion
A huge part of brown sugar bubble tea's success should be credit to social media.  On one hand, brands have made good use of social media to engage with current customers and captivate potential buyers. These brands have collaborated with online publishers such as Jetso and ULifestyle HK, to publicize extensive new store and product news which attract high audience engagement including likes, comments and shares. Moreover, a lot of KOLs helped post pictures and reviews of these drinks on their social media which also stir up the trend and motivate more consumers to the product.
Apart from online promotions, some brands create in-store gimmick to attract customers. For example, Kau Cim (求籤) was available in Xing Fu Tang(幸福堂) because "xing fu" means happiness and fortune in Chinese. This shopping experience links with the brand identity and helps lower perceived waiting time by letting the customers draw fortune sticks while waiting for their drinks.
However, while more new brands are joining the market in Hong Kong, less coverage could be seen on social media, and less and shorter queues could be observed. Therefore, to sustain the brown sugar bubble milk market, more creative promotional methods and platforms might need to be used.
Place
Most franchisees would establish its first branch specializing in brown sugar bubble milk in crowded locations such as Causeway Bay and Mong Kok. These locations attract a lot of people and hence the high traffic because of its booming location with large variety of shops and malls. It also increases product visibility when branches are located inside or near large shopping malls, e.g. Hysan Place, as it could be more easily found and discovered. By opening multiple branches in several hot locations, it increases the accessibility of the beverage since people are able to purchase somewhere nearer to their homes or workplace.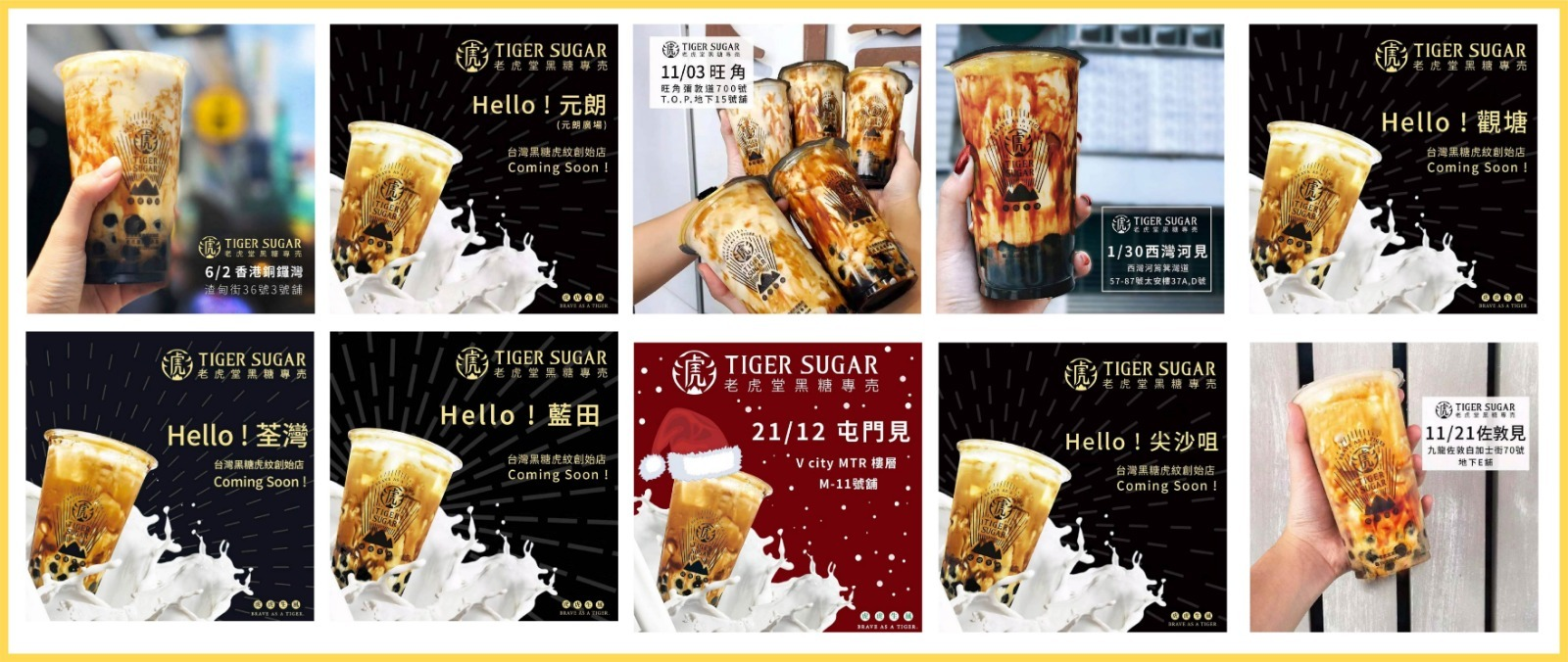 People
The primary target customers are young people between the age of 16 to 30. Since social media is the main platform where this trend blossomed, youngsters are therefore easier to be drawn into the trends as they are huge fanatics and frequent users of social media. Moreover, with the chic and fresh visuals, a lot of people post pictures and reviews of the drinks on their own social media platforms to "check-in" and create user-generated contents.
Another target group is adults working in the central business districts, which are accessible to the shops and attracted by the vast variety of products during their lunch breaks or clock-offs. Having a sip of sweetness after meals or a full day of hard work is perhaps huge enjoyment and comfort for a big group of hard-working population in Hong Kong.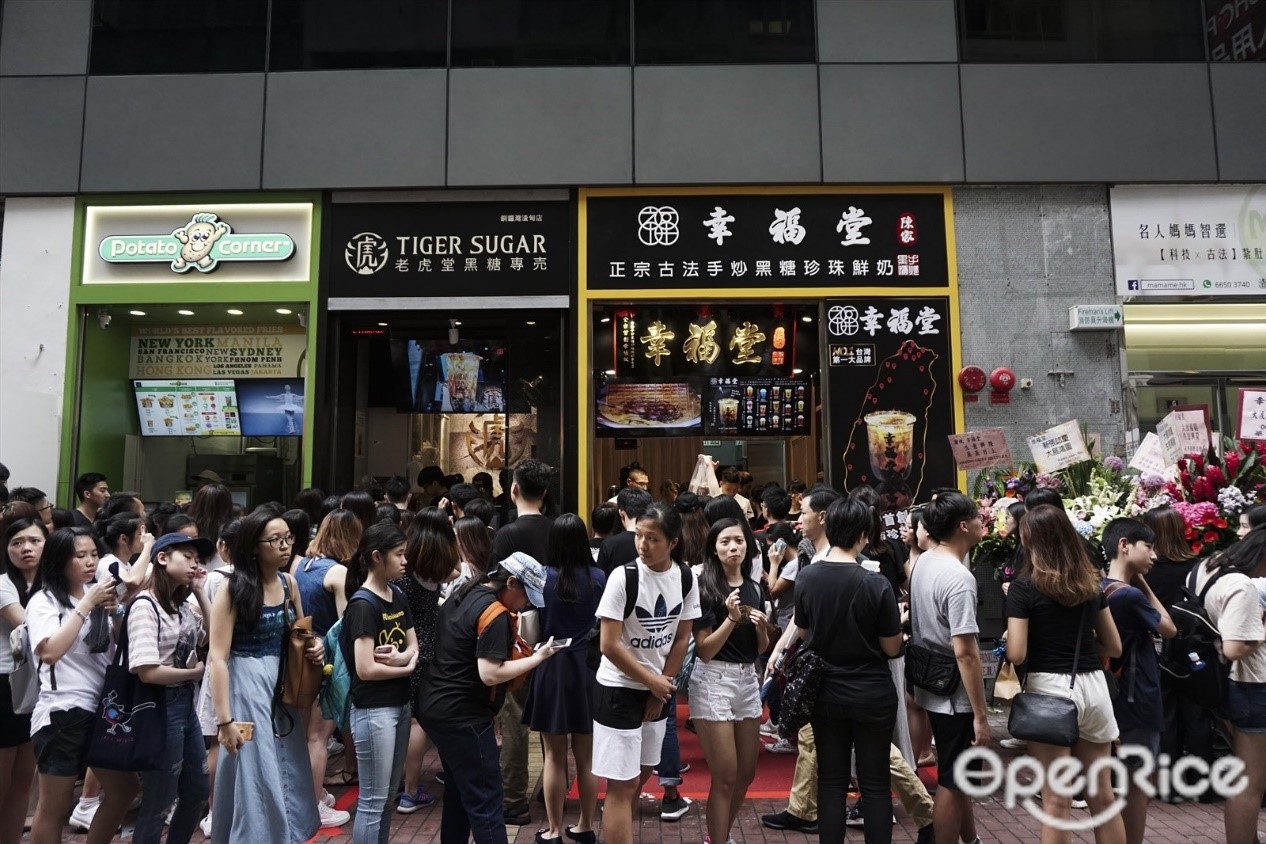 The burst of the bubble?
In just few months' time, the brown sugar bubble milk crowd in Causeway Bay has become a thing in the past, as Tiger Sugar and Xinfutang continued their business in a completely opposite way: Tiger Sugar opened new stores around the city, making their products more reachable to their fans; However, Xinfutang closed all their business after legal disputes with their parent company in Taiwan. Despite its dropping popularity, Brown Sugar Bubble can be seen everywhere now, which hinted the frenzy can be here for another while.
The Taiwanese tea drink market has faced a lot of ups and downs in just the past decade. As lucrative as it may seem, how to thrive and survive requires thorough understanding of the market and innovative ideas to mobilize your target consumers.
Reference
Lee, B. (2018, November 13). The Coconuts taste test: We try 7 bubble tea brands to find the best brown sugar pearl milk in Singapore. Retrieved from https://www.yahoo.com/news/coconuts-taste-test-try-7-034105085.html
B&S International Holdings Limited. (2018, February 26). Share Offer of B&S International Holdings Ltd. Retrieved from http://www3.hkexnews.hk/listedco/listconews/sehk/2018/0226/ltn20180226017.pdf
HK01. (2018, June 13). 老虎堂虎紋黑糖波霸鮮奶日賣千五杯!搖15下先飲?. Retrieved from https://www.hk01.com/%E9%A3%B2%E9%A3%9F/198773/%E6%96%B0%E5%BA%97%E9%80%9F%E9%81%9E%E8%80%81%E8%99%8E%E5%A0%82%E8%99%8E%E7%B4%8B%E9%BB%91%E7%B3%96%E6%B3%A2%E9%9C%B8%E9%AE%AE%E5%A5%B6%E6%97%A5%E8%B3%A3%E5%8D%83%E4%BA%94%E6%9D%AF%E6%90%9615%E4%B8%8B%E5%85%88%E9%A3%B2
唐家儀. (2019, January 18). 【銅鑼灣台茶】幸福堂變幸福週末!黑糖海鹽珍奶新品玫瑰桂花泡泡. Retrieved from https://www.hk01.com/飲食/284282/銅鑼灣台茶-幸福堂變幸福週末-黑糖海鹽珍奶新品玫瑰桂花泡泡
Food · Travel · Instagramers (@foodsearchers) • Instagram photos and videos. (n.d.). Retrieved from https://www.instagram.com/foodsearchers/
Yash Doshi & Gunjan Jeet Sharma (2018 February). Bubble Tea Market by Base Ingredient (Black Tea, Green Tea, Oolong Tea, and White Tea), Flavor (Original Flavor, Coffee Flavor, Fruit Flavor, Chocolate Flavor, and Others), Component (Flavor, Creamer, Sweetener, Liquid, Tapioca Pearls, and Others) – Global Opportunity Analysis and Industry Forecast, 2017-2023. Retrieved from https://www.alliedmarketresearch.com/bubble-tea-market
良辰吉時「啵爆黑糖厚鮮奶買一送一」. (n.d.). Retrieved from http://timable.com/zh-hk/event/1738788
TenTen. (2018, November 6). 台飲店良辰吉時快閃優惠 2款人氣飲品買一送一 | 港生活 – 尋找香港好去處. Retrieved from https://hk.ulifestyle.com.hk/activity/detail/112449/台飲店良辰吉時快閃優惠-2款人氣飲品買一送一
一粒費米. (2019, February 12). 【太古美食】墨茶道推新年限定優惠!黑糖珍珠鮮奶第2杯半價 | 港生活 – 尋找香港好去處. Retrieved from https://hk.ulifestyle.com.hk/activity/detail/113439/太古美食-墨茶道推新年限定優惠-黑糖珍珠鮮奶第2杯半價
飲食, 新 -. (2018, December 29). 台灣淡水人氣珍奶李圓圓到港!明火熬足2小時 現煮黑糖珍珠! | Uncategorized. Retrieved from https://www.weekendhk.com/886408/uncategorized/李圓圓-珍珠奶茶-佐敦/
香港老虎堂 tigersugar. (n.d.). Retrieved from https://www.facebook.com/hktigersugar/
Food · Travel · Instagramers on Instagram: "好多人都拎鹿角巷嘅「黑糖鹿丸鮮奶」同港九眾多珍奶舖相比開咗好一段時間都仲係勁長人龍,最近旺角店開咗情況好似好咗少少!被譽為全港數一數二嘅黑糖珍珠奶,黑糖味幾濃,而且珍珠有咬口,的確係啲料到嘅而家更加期待嚟緊準備台北空降嘅過江龍啊! . 鹿角巷…" (2018, July 23). Retrieved from https://www.instagram.com/p/Blk7KuNnUbD/
珍煮丹 – 香港 (@jenjudanhk) • Instagram photos and videos. (n.d.). Retrieved from https://www.instagram.com/jenjudanhk/f
銅鑼灣台飲】「幸福堂」駕到!即場手炒黑糖珍珠 飲茶兼玩求籤 | 2018-08-11 | 飲食男女 | 蘋果日報. (2018, August 11). Retrieved from https://hk.lifestyle.appledaily.com/etw/magazine/article/20180811/3_58547464/-銅鑼灣台飲-幸福堂-駕到-即場手炒黑糖珍珠-飲茶兼玩求籤-
飲食, 新 -. (2018, December 10). 老虎堂尖咀觀塘屯門再開店!台中爆紅黑糖珍奶 詳細分店詳情 | 最Hot飲食情報 | 飲食. Retrieved from https://www.weekendhk.com/820851/dining/台中-老虎堂-香港店-黑糖珍奶-銅鑼灣/5/
Retailers scramble to cash in on bubble tea craze. (2018, September 10). Retrieved from https://hongkongbusiness.hk/retail/news/retailers-scramble-cash-in-bubble-tea-craze
老虎堂勁敵! 銅鑼灣幸福堂即席手炒珍珠 – 新店直擊. (2018, August 11). Retrieved from https://www.openrice.com/en/hongkong/article/老虎堂勁敵-銅鑼灣幸福堂即席手炒珍珠-a5068
---