Newsjacking Advertising Is a Double-edged Sword
By Leung Nok Huen, Christie
"News" + "Hijacking" = "Newsjacking". Popularised by marketer David Meerman Scott (2011), newsjacking refers to the practice of piggybacking off a breaking news story or social affair, and injecting a fresh perspective on the news topic so as to promote or advertise one's brand or product. This marketing strategy usually appears on social media platforms, as it requires company to response in real time before other brands take action or people lose interest in the topic. In this summer, Greenpeace and Yoshinoya have shown us the success and failure of newsjacking political incidents (i.e. 2019 Hong Kong Protests) respectively.
Most of the time, newsjacking has the power to attract more eyeballs on your brand in an hour than you can within whole year or with an astronomical marketing budget. Currently, Greenpeace took advantages of some hot discussion topics about the protests in Hong Kong and recreated their own versions to shed light on local environmental issues. For instance, netizens produced an anti-police song called Maria Got Something to Say (肥媽有話兒), which went viral very quickly on the Internet after its debut. In response to that, Greenpeace published a social post with altered lyrics and visual of a Maria Cordero-liked dolphin in order to call for public to sign a partition against land reclamation. Thanks to the resonance among the netizens, Greenpeace received an unprecedented number of likes and glorification on their Instagram and Facebook. This marketing tactic undoubtedly increases a company's share of voice and brand awareness. In addition, successful newsjacking shows the stakeholders that the company is concerned with current events, which is beneficial to the brand's reputation.
However, newsjacking political issues certainly has its risks, especially when the social content is contradictory to the company's political stance. In early July, Hong Kong Police removed notes from a "Lennon Wall" in Tai Po and their act was widely criticized by protesters. Yoshinoya, a Japanese food chain, was quick to jump onto the news with an amusing Facebook advert that poked fun at the police as well as promoted their food product chikuwa (竹輪/獅子狗). Unlike Greenpeace, which is a non-government organization, some executives of Yoshinoya are believed to be pro-China and were completely pissed off. Numerous pro-government netizens also left resentful comments and expressed their disappointment towards the brand. Eventually, the post was deleted the next day. Political topics are always controversial and the turnaround time for this kind of advertisements is too short for an internal review before publication. This renders the move risky and requires careful handling.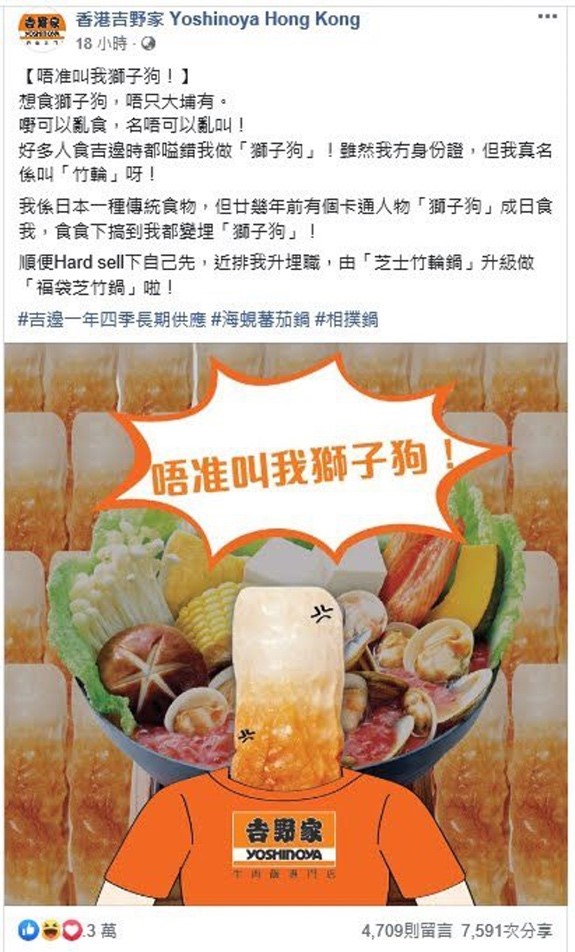 All in all, newsjacking is a powerful and attention-winning marketing strategy that might enable an organization  like Greenpeace to win people's applause. But at the same time, it is a tricky and delicate thing that might cause unimaginable destruction to the brand like Yoshinoya. Therefore, if the brand image is not highly relevant to the animated topic or the brand aims to build a loyal following over the long-term, they are recommended to avoid applying newsjacking when some other IMC strategies can also create buzz!
References
Cheung, E. & Su, X. (2019 July 12). Yoshinoya Hong Kong steams at local advertising agency as disputes over extradition bill roil local workplaces. South China Morning Post. Retrieved from https://www.scmp.com/news/hong-kong/politics/article/3018423/yoshinoya-hong-kong-steams-local-advertising-agency
Greenpeace Hong Kong [Instagram]. (n.d.). Retrieved October 15, 2019, from https://www.instagram.com/greenpeace_hk/?hl=zh-hk
Scott, D. M. (2011). Newsjacking: How to inject your ideas into a breaking news story and generate tons of media coverage. New York, NY: John Wiley & Sons.
Sukhraj, R. (2018). Newsjacking: Using the life of a news story to boost your brand. Retrieved from https://www.impactbnd.com/blog/newsjacking-how-to-use-life-of-a-news-story-in-content-marketing
Vermoesen, K. & Weverbergh, R. (n.d.). Newsjacking: how to use the news to build your brand. Retrieved from https://www.finn.agency/newsjacking
---