Saving the world's paradises – Corona and the plastic pandemic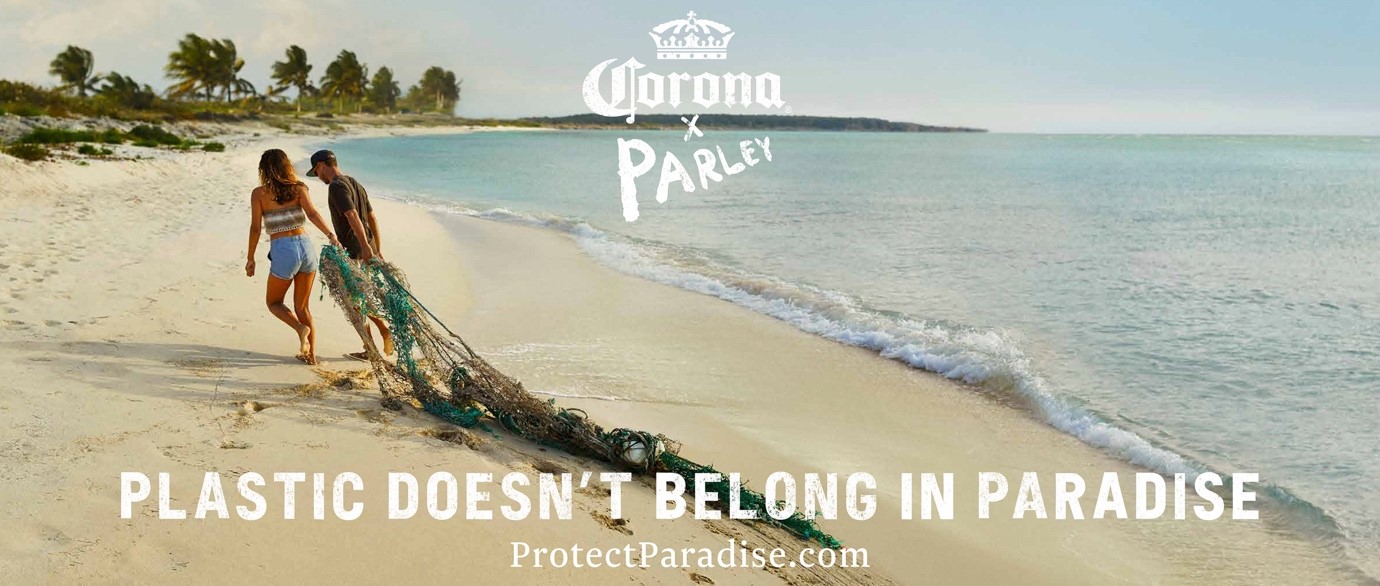 Wong Wing Yan Viann
Have you ever thought of buying products with your daily waste?
Since 2019, global leading beer brand Corona, has partnered with Parley for the Oceans, an environmental organization, to celebrate the World Oceans Week. Noticing that around 8 million tons of plastic waste are dumped into the oceans each year (National Geographic, 2019), together they launched 'Pay With Plastic', a purpose-driven campaign dedicated to protect the world's aqua paradises (Ellman, 2019).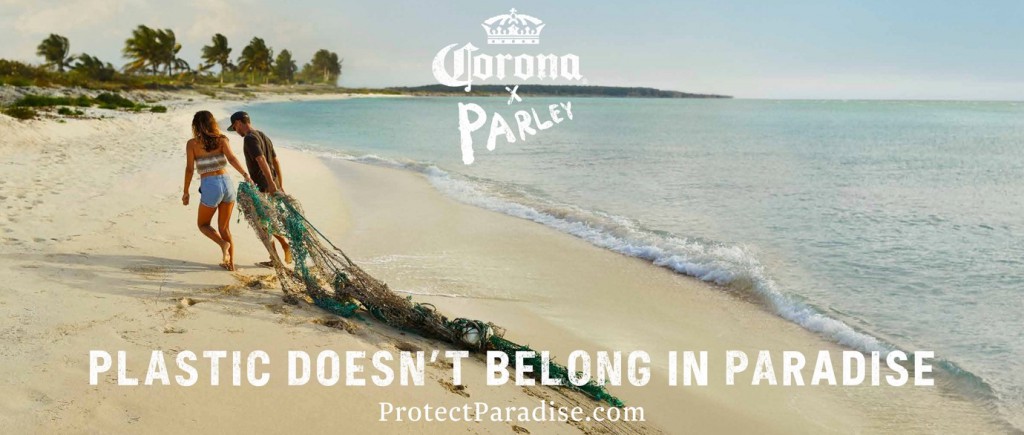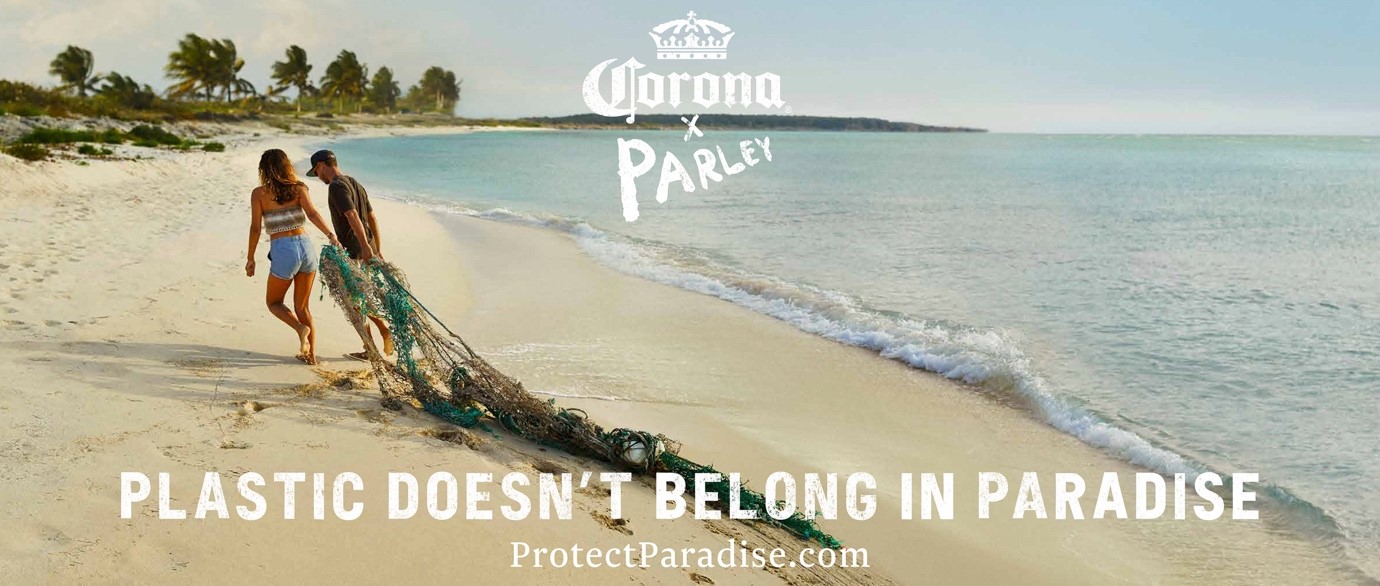 The campaign provided consumers with various activities to be part of the initiative, all for a good cause. First, people are encouraged to trade plastic waste for a new brew, where geo-targeted interactive maps are displayed around cities to guide people to the nearest recycling machine for the exchange (Yu, 2020). Users may trade three plastic bottles for a bottle of Corona beer. Secondly, a limited edition package made of upcycled materials is designed – for every package sold, one square meter of a beach will be cleaned up. Meanwhile, consumers can sign up to take a role in the clean-up too. Through these activities, the campaign demonstrated Corona's strong commitment to fight against plastic pollution.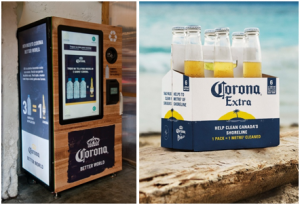 By the end of 2020, the campaign has already collaborated with over 25,000 volunteers, where 537 beaches, a total of 3 million square meters in 23 countries, have been cleaned (Yu, 2020). It also engaged with various stakeholders from nine countries, including the United Kingdom, Canada and Spain, to participate in the action (Christe, 2019).

The campaign has created a buzz towards environmental and social issues by utilizing low-cost yet impactful guerrilla marketing tactics, such as posting huge posters and placing recycle machines around cities. This reinforces the word-of-mouth effect and its brand image, which also aligns with its beach-friendly brand identity.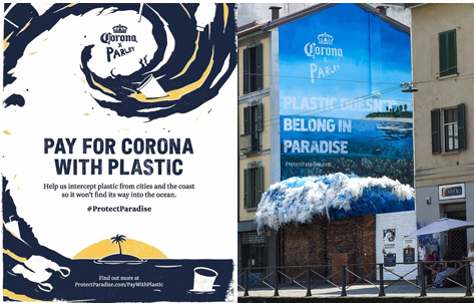 Besides being successful in raising awareness, the campaign has connected Corona with its audiences, allowing them to be part of the campaign. As a purpose-driven campaign, it tapped into consumers' concerns and engaged people who shared the same value, which helped the brand to reach a broader audience. It can be seen that Corona differentiates from a business-focused brand like some of its competitors; instead, it positions itself as a value-driven and relatable brand (Chiste, 2019).
Interestingly, such marketing strategy is especially effective in targeting Gen Z. According to a survey done by GlobeScan (2020), around 60% of the Gen Z respondents mentioned that they prefer to work for and consume products from a company that is socially and environmentally responsible. Hence, this campaign further builds a loyal relationship between Corona and potential Gen Z consumers, bringing benefits in the long run.
'Pay With Plastic' is still an ongoing project where it does not only embrace sustainability but also incentivizes and educates customers to achieve the social mission together through effective and innovative activities. Corona's bona fides and continuous effort towards environmental issues will definitely create a ripple effect of positive changes to the world, where we all belong to.
References 
Christe, D. (2019). Corona lets beer drinkers pay with plastic waste for World Oceans Day. Retrieved from https://www.marketingdive.com/news/corona-lets-beer-drinkers-pay-with-plastic-waste-for-world-oceans-day/556517/
Corona Swaps Sales for Plastic During World Oceans Week as Part of Mission to Protect Paradise with Parley. (2019). Retrieved from https://www.businesswire.com/news/home/20190604006171/en/Corona-Swaps-Sales-Plastic-World-Oceans-Week
Fisk, P. (2019). Pay With Plastic … Corona teams up with Parley to let you pay for your beer with plastic waste – GeniusWorks. Retrieved from https://www.thegeniusworks.com/2019/06/pay-with-plastic-corona-teams-up-with-parley-to-let-you-pay-for-your-beer-with-plastic-waste/
Radically Better Future: The Next Gen Reckoning Report. (2020). Retrieved from https://globescan.com/radically-better-future-next-gen-reckoning-report/
Yu, K. (2020). The Good Corona: Find out how this brand inspired consumers to make a positive change! [Fridays: Gorillas of Guerrilla Marketing] – Valens Research. Retrieved from https://www.valens-research.com/dynamic-marketing-communique/the-good-corona-find-out-how-this-brand-inspired-consumers-to-make-a-positive-change-fridays-gorillas-of-guerrilla-marketing/
---