Shiseido's "The Party Bus" – Call For Beauty in Diversity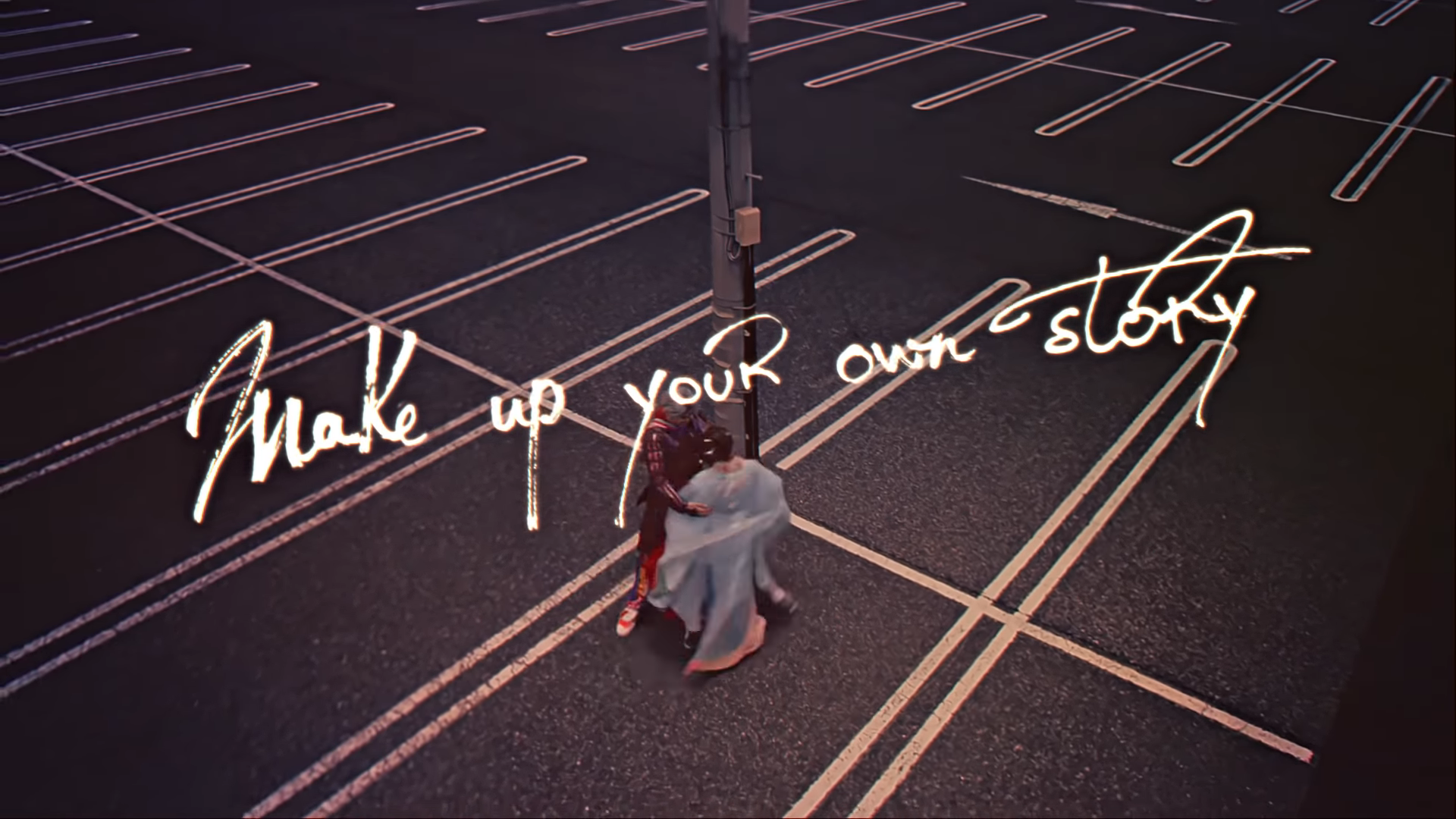 Reaching over seven million views on YouTube and winning the 'Film Grand Prix' Epica Awards 2018, Shiseido's three-minute online film "The Party Bus" is no doubt one of the most successful commercial campaigns in recent years (1). Other than its aesthetics, creativity and social commentary, what made this advertisement so outstanding?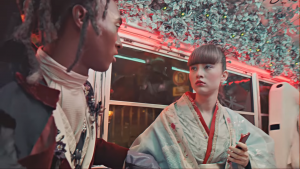 The advertisement is a story about Princess Kaguya. Starting off with the sentence 'I just can't tell you that I love you.' In Japanese on screen (2), Kaguya was shown sitting next to her boyfriend on a party bus. Despite their friends were enjoying themselves, Kaguya seemed bored and distracted. A tear dropped from her eye, mixing with her lipstick and a little girl appears on her face. The little girl danced on Kaguya's face and help her to put on more beautiful makeup. When Kaguya opened her eyes, she decided to leave her boyfriend and find her true love: Samurai Zombie. She took off Samurai's mask, showing the audience that Samurai is actually pretty lady, and kissed her. The couple danced in the empty parking lot, and the film ends with a message – Make up your own story
"The Party Bus"
"The Party Bus" is a story of a lesbian bravely fight for her true love. From the heroine, the tears of Kaguya, symbolizing her weakness and pressure from social stigma, were transformed into makeups and the pursuit of true love. For the first time, the Japanese cosmetic company has publicly voiced their attitude towards the LGBTQ community, instead of using culture and value as a means of propaganda for the brand.
Shiseido also invited more gender-neutral faces, such as Koharu Sugawara to be part of this campaign, which is different from the models with strong feminine traits. With the main message "Make Up Your Own Story", the campaign shows that with the magic of makeup, girls can pursue their dreams fearlessly. In this advertisement, not only did Shiseido display their open-mindedness and acceptance towards LGBTQ, it also opened a profitable door to the pink money market.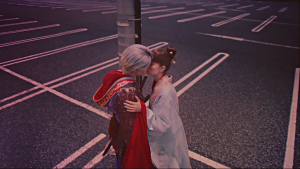 Concepts of Marketing 3.0
The advertisement helped Shiseido to build up a positive brand image. Marketing 3.0 is the new marketing concept that focuses on the consumer's mind, soul, emotions, and body (3). Kotler, Kartajaya & Setiawan (2010) stated that many industries are facing the challenge of oversupply and over-clustered market. Therefore, these enterprises have to differentiate themselves by brand marketing. More and more customers prefer to patronize brands that are willing to take social responsibility and contribute to society.
The Party Bus is an outstanding example of Marketing 3.0. At the end of the video, the campaign message "make up your own story" was shown, which encourage consumers to try its products and not to let social stigma deter their dreams. The LGBTQ community has faced prolonged discrimination, and social advocates have been fighting against this and their rights in the past decades. Despite being a well-developed nation, Japan is still quite close-minded towards the LGBTQ minority. For example, same-sex marriage is illegal and homosexuals have to undergo sterilization, as well as gender confirmation surgery. Some politicians even make homophobic comments publicly (4).
As a well-known global brand, Shiseido is brave to shout out for the LGBTQ community and take the risk of being disapproved by some audiences. Yet, they gain success from this advertisement. Trying to speak for the minority and being involved in the social issue helped establish a progressive, open-minded and inclusive brand image for Shiseido.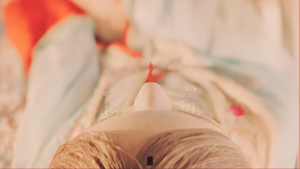 Pink Money
Besides, the reason for Shiseido to use LGBTQ advertisements is heavily related to economic benefits. By integrating LGBTQ elements in their commercial, Shiseido can step into the 'pink money' market. "Pink money market" is a newborn economy derived from the LGBTQ group, with a huge market potential and high purchasing power(5).
According to LGBTQ Capital's research in 2016, there are 2.8 hundred million LGBTQ population in Asia with an annual purchasing power equals to 1.1 trillion dollars. And the LGBTQ population in Hong Kong is about 470 thousand, holding an average annual purchasing power of 22 billion dollars(6) . Although the LGBTQ group is large and their purchasing power is strong, there are still very few products and services that target the community. As 'Pink money' is profitable but not yet fully developed and less competitive, advertising strategies adopted by Shiseido can help them gain access to the lucrative Pink money market.
Furthermore, many LGBTQ couples are categorized as DINK(7), which stands for Dual Income and No Kids. Without the financial pressure from raising children, this group of people might have greater spending power than their peers.
Lastly, another benefit of targeting the LGBTQ group is the financial self-identification created from pink money. Statistic shows that 90% of gay people would prefer and support brands that advocate for them and will boycott brands that discriminate their community(8). Targeting the pink money market can be depicted as a gesture of goodwill to the LGBTQ community and reveals how a brand value this customer group. According to report findings, this strategy may lead to higher brand loyalty and spending from the LGBTQ community. There is a positive development for business that values the pink money market, which is a good rationale to explain Shiseido's bold move to appeal to a minority and oppressed group in the society.
Shiseido's 'The Party Bus' has done a successful campaign. Not only did Shiseido build a friendly and inclusive brand image, it also helped Shiseido to step into the potential "Pink money market". How will the brand maintain their newly established brand image will have great influence towards their popularity.
Reference
1. Kelly, K. (2018, November 30). Shiseido Japan's same-sex kiss ad wins gold in Epica advertising awards. Retrieved from https://www.google.com/amp/s/soranews24.com/2018/11/30/shiseido-japans-same-sex-kiss-ad-wins-gold-in-epica-advertisin
2.Natividad, A. (2018, October 23). Japanese makeup brand Shiseido Tells a Beautiful, unexpected love story for Halloween. Retrieved from https://musebycl.io/fashion-beauty/japanese-makeup-brand-shiseido-tells-beautiful-unexpected-love-story-halloween
3.Kotler, P., Kartajaya, H., & Setiawan, I. (2010). Marketing 3.0: From products to customers to the human Spirit. Hoboken, NJ: John Wiley & Sons.
4.Amnesty International. (n.d.). Japan: Demand equality for LGBT people. Retrieved February 27, 2019, from https://www.amnesty.org/en/get-involved/take-action/japan-demand-equality-for-lgbt-people/
5.Ruth, M. (2000, August 18). Pink money' flowing to democrats; Gay contributions now major source. The Washington Post.
6.Green, J. (2016, September 20). LGBT purchasing power near $1 trillion rivals other minorities. Retrieved from https://www.bloomberg.com/news/articles/2016-07-20/lgbt-purchasing-power-near-1-trillion-rivals-other-minorities
7.Van Gils, W., & Kraaykamp, G. (2008). The emergence of dual-earner couples. A longitudinal study of the Netherlands. International Sociology, 23(3), 345–366. Retrieved from https://doi.org/10.1177/0268580908088894
8. 林若茹( 2014 )。〈LGBT中国报告二:粉红市场〉。擷取自網頁https://mp.weixin.qq.com/s?__biz=MzA3MzU0OTQzMw==&mid=202425001&idx=2&sn=950c77a8136d79c5a33ef1b0f6e58a7b
---