Snapchat's Pride: Using Snapchat filters as a Marketing Tool
Written by: LEUNG Kwan Ho, Brian
Have you ever imagined that you can contribute to society just by using a Snapchat filter? In 2016, W Hotels created a stand-out social campaign with artist Baron Von Fancy by launching "W Hotels X Baron Von Fancy PRIDE Snapchat Filters". Every time the filter is used, W Hotels donates $1 to the Human Rights Campaign (HRC) to support their work in the LGBTQ community. These filters are geo-based, which means travelers can only use the filter near any W Hotel across the US. The filter can be used in the entire June as a way to show support to the Pride month. It has brought a multitude of benefits to the brand and the LGBTQ community at a relatively low cost.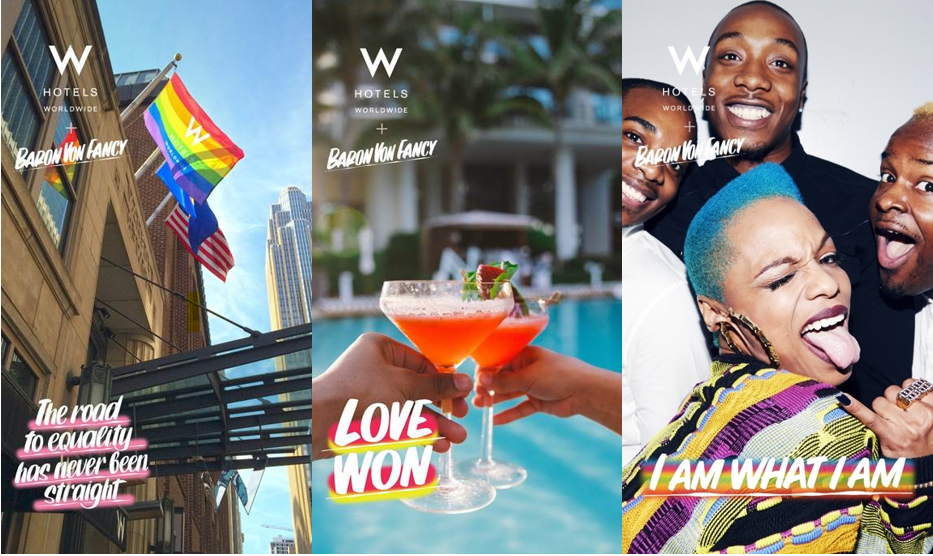 In 2019, Snapchat charged around $5 to $20 USD per day for a geo-filter in a suburban sized area (Buy Custom Geofilter, 2019). The campaign operated on a low budget as it was much cheaper than purchasing ads or holding events in reality, since that the cost for launching a geo-filter in Snapchat is relatively cheap. With an artist providing designs and Snapchat jumping onboard sponsoring the event, this geo-fencing marketing campaign was no doubt an economical and cost-efficient one.
This campaign shows the benefits of using geo-fencing marketing. The filet is enabled whenever users enter the "fence"; Since Snapchat is common among youngsters, which is also the target group of W Hotels, this strategy can effectively reach its target and invite their participations. By sending Snapchats, geo-filters will invite fans to interact and contribute in a playful way. The initiative of the campaign was shared with influential Snapchat users like Baron Von Fancy, bloggers and the LGBTQ community to create buzz and gain more exposure on social media. Besides, as the filter only ran for a month, users will have incentive to try the limited filter to take part in the trend.
W hotels target a younger age group by embracing an innovative atmosphere. This social campaign is conducive to the brand as it enhances their brand image. W Hotels was the first hospitality brand to launch their own geo-filters in support of the LGBTQ community. What they have done can build a positive and socially-embracing image, as the hotel chain voices out their support to a group that still faces marginalization and discrimination today. The campaign has been covered by media outlets like Obsever.com, HotelsMag.com and so on, which could bring positive media exposure to the chain.
By showing support to the LGBTQ community, the campaign W hotels encouraged more brands to be vocal on the issue. Ultimately, the filter was used 19,893 times throughout June 2016 and were viewed over 2.1 million times. This transformed into a US$19,893 donation to the Human Rights and the Orlando Victims Fund respectively (THINK Public Relations, W Hotels, 2017). The campaign helped the fight for LGBTQ rights by showing the enormous support from society and funding.
References
Buy Custom Geofilter. (2019). How Much Does A Snapchat Geofilter Cost In 2019. Retrieved from https://www.buycustomgeofilters.com/blog/how-much-a-snapchat-geofilter-costs.
THINK Public Relations, W Hotels. (2017). W HOTELS X BARON VON FANCY PRIDE SNAPCHAT FILTERS. Retrieved from https://shortyawards.com/9th/w-hotels-x-baron-von-fancy-pride-snapchat-filters.
---