Sound the Excuse – all you need to escape from Zoom meeting is in one single soundboard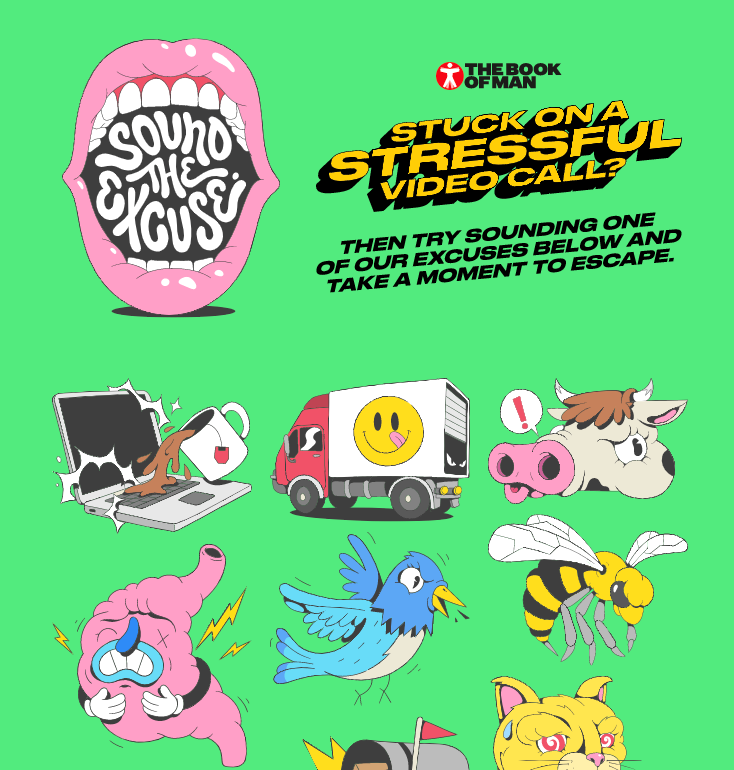 Cheung Nga Wing Sharon
Have you ever been stuck in a stressful video meeting that makes you emotionally overwhelmed? It is reported that working from home and lockdown result in mental health issues, with 80% of respondents to a survey on the matter declaring that they are undergoing stress and anxiety caused by WFH (FE News, 2021).
The Book of Man, a men-oriented media platform, noticed that COVID-19 is not simply a public health crisis, but also creating a serious mental health issue. The Book of Man collaborated with TBWA advertising agency and launched an online social campaign. They believe that no one should have to make excuses to look after their mental health, which sadly is the only option in most cases. This is how The Book of Man came out with the idea of 'Sound the Excuse', to provide employees with an excuse for endless video calls.

The campaign 'Sound the Excuse' is a microsite with various interesting sound effects uploaded. There are sound clips of daily accidents that are likely to happen at home. For example, tea being spilt on laptop, kids arguing, food delivery arriving unannounced, windows being smashed and even wasp invasion (Sound the Excuse, 2020), which clearly shows that you have no alternative but to leave the meeting immediately. One of the distinctive features of video calls is that no one knows what is really happening outside your screen. By playing those sound effects, people can make an excuse and take a moment to escape from stressful video meetings in a humorous way.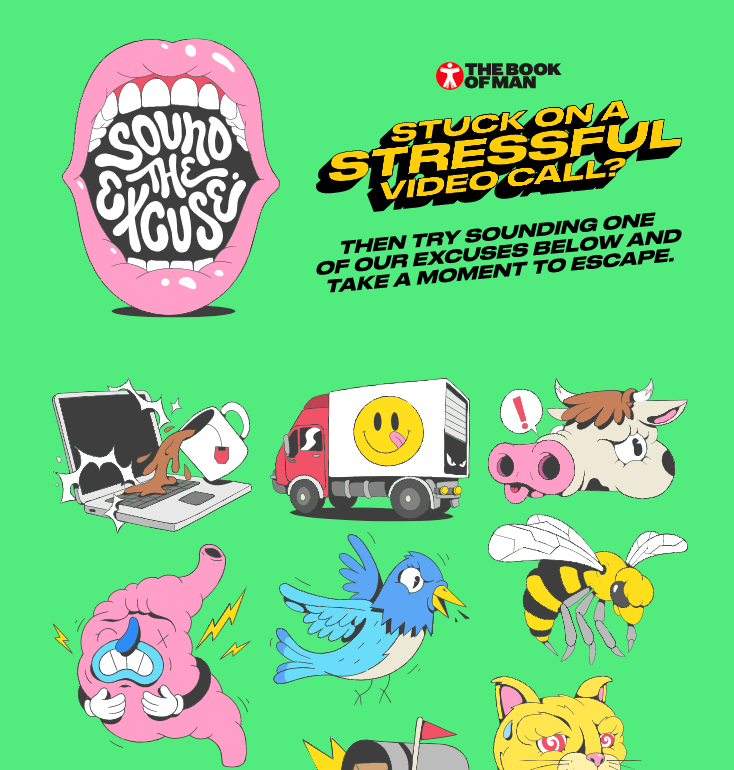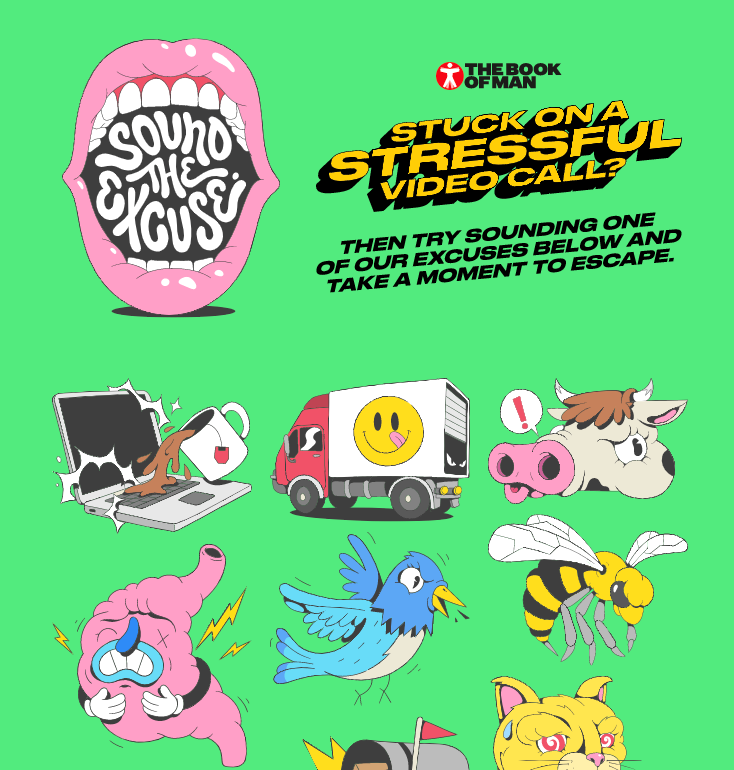 In fact, 'Sound the Excuse' demonstrates few important elements that a social campaign should include. The campaign is produced with a relatively low budget but innovative at the same time. Once the sound effect is recorded, it can be used as an excuse by an unlimited number of people for unlimited times. Moreover, celebrity endorsement is not a must in this case when the campaign is launched at the right timing.
'Sound the Excuse' was launched at a perfect time when people have to work from home during the coronavirus pandemic. The campaign is considered to be well timed as it is launched on 10th October to time with World Mental Health Day (TBWA, 2020). 'Sound the Excuse' got media coverage and exposure through earned media as the gimmick behind is widely reported by different media platforms.
'Sound the Excuse' may not be an effective tool to tackle Zoom fatigue in long term. It neither reduced any workload nor changed the fact that we are forced to work from home. Yet, the campaign does not simply deliver light relief, but the sense of hope and support. And more importantly, the underlying message 'It is okay not to be okay' helped people to navigate through the crisis (Bite, 2020). We can tell that the social campaign did make some changes to our society.
Reference
Nicola Kemp. (2020). TBWA\London and The Book of Man team up to tackle Zoom fatigue. Bite. Retrieved from https://www.creativebrief.com/bite/tbwa-and-book-man-team-tackle-zoom-fatigue
Sound the Excuse. (2020). Retrieved from https://www.soundtheexcuse.com/
TBWA. (2020). TBWA: Sound the Excuse by TBWA. Retrieved from https://www.thedrum.com/creative-works/project/tbwa-tbwa-sound-the-excuse
Wildgoose. (2021). 46% of employees say working from home is negatively impacting their mental health, according to study. FE News. Retrieved from https://www.fenews.co.uk/press-releases/61339-46-of-employees-say-working-from-home-is-negatively-impacting-their-mental-health-according-to-study
---