Swift Adaption – How Dr. Red Nose continues to make children happy after 2020 pandemic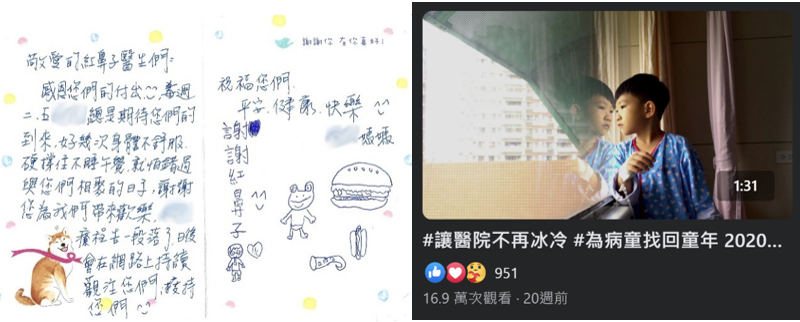 Have you wondered how non-profit organizations (NPOs) can plan an effective campaign in a post-pandemic era, when most countries are still deeply plagued by social disconnection and economic downturn? Here, a Taiwanese clown care organization may give you some inspirations.
Dr. Red Nose, just like a myriad of Taiwanese NPOs, suffered from a sharp decline in number of donors and faced volunteer shortage due to the global health crisis and economic recession in 2020. To continue its mission and provide its virtual medical clowning service to around 31,000 children with long-term illnesses, it immediately launched a crowdfunding campaign on Facebook and Instagram named "Smile Donation Scheme" in July with a clear marketing objective: raising 5 million NT to maintain its normal operation.
But when the public is tightening their belts and becomes less willing to spend on NPOs they are unfamiliar with, what format will sound appealing to prospective donors? And what channel is more effective for online promotion?
Dr. Red Nose revealed its strategies on 15th August 2020: "Emotional Marketing". It showcased a thank you card from a parent about how medical clowns relieved the torture of her hospitalized child and subsequently videos of patients and nurses being lifted up by these professionals' musical performance and entertainment after being isolated for a long time. As a result, many netizens felt touched and took action to show their sympathy. Though storytelling is not a brand-new tactic, it can powerfully deliver the NGO's impact and attract donation during this difficult time, when people are easily emotionally mobilized to support NPOs that bring immediate good to the society, to regain some sense of control in moments of uncertainties.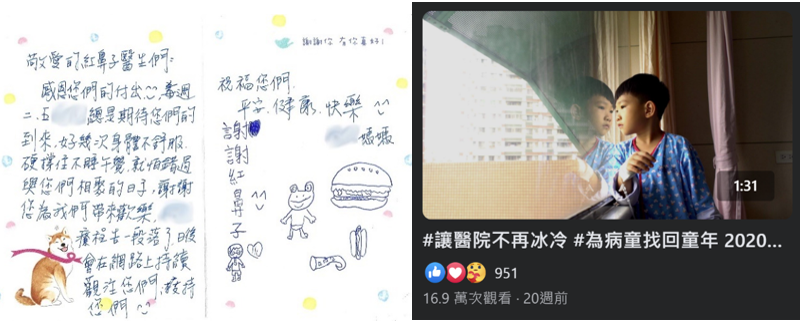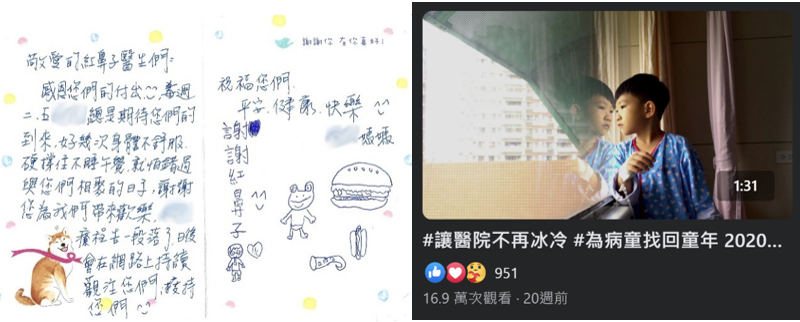 Apart from connecting target audience with the right format, leveraging updated platforms for promotion is also crucial in post-pandemic planning. Dr. Red Nose founder Ma, Chao-Chi first accepted a podcast interview and later on partnered with Star Clinic to co-host a 45-minute Facebook Live on 9th December with a view to disclosing the details of job duties and memorable experience of the medical clowns for marketing the campaign. It again receives nearly 300 comments with many netizens endorsing their efforts through buying its LINE stickers and souvenirs. Not only were podcast and livestream videos popular among Generation Z since their consumption of online videos skyrocketed when they had to stay at home, they also effectively boost NPO's engagement with its audience as they compensate the room for interaction from face-to-face events, building a higher public's trust towards the organization.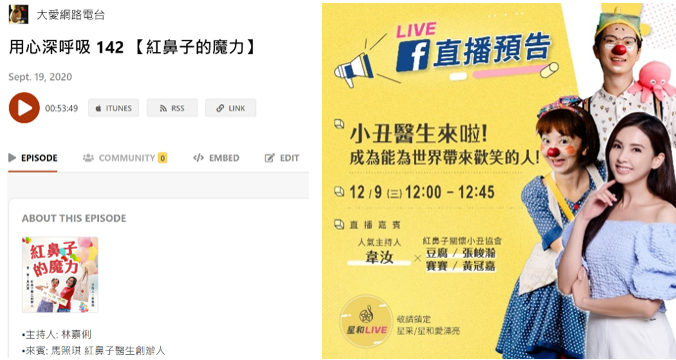 The campaign already witnessed a monumental success with NT 2.8 million raised in 6 months. What's more, Dr. Red Nose was also selected as "The Charity Activist" in Taiwan in 2020 for their relentless contribution to the underprivileged, which demonstrated that a swift adaptation in campaign planning, from adjusting objective, format to channel, may serve a key to speedy recovery from a crisis.
Reference
Amy, C. & Megan, C. & Lori, B. (2020). Three Things Nonprofits Should Prioritize in the Wake of COVID-19. Retrieved from https://ssir.org/articles/entry/three_things_nonprofits_should_prioritize_in_the_wake_of_covid_19
Maria, M. (2020). The Top 10 Nonprofit Marketing Trends for 2021. Retrieved from https://bigsea.co/ideas/top-10-nonprofit-marketing-trends-for-2021/
劉嫈楓(2020年10月)。〈危機?轉機?-NPO大調查:疫情下的公益變遷〉。取自https://ubrand.udn.com/ubrand/story/12117/4955623
---