The Future World of Luxury Brands: How will advancing technologies bring changes?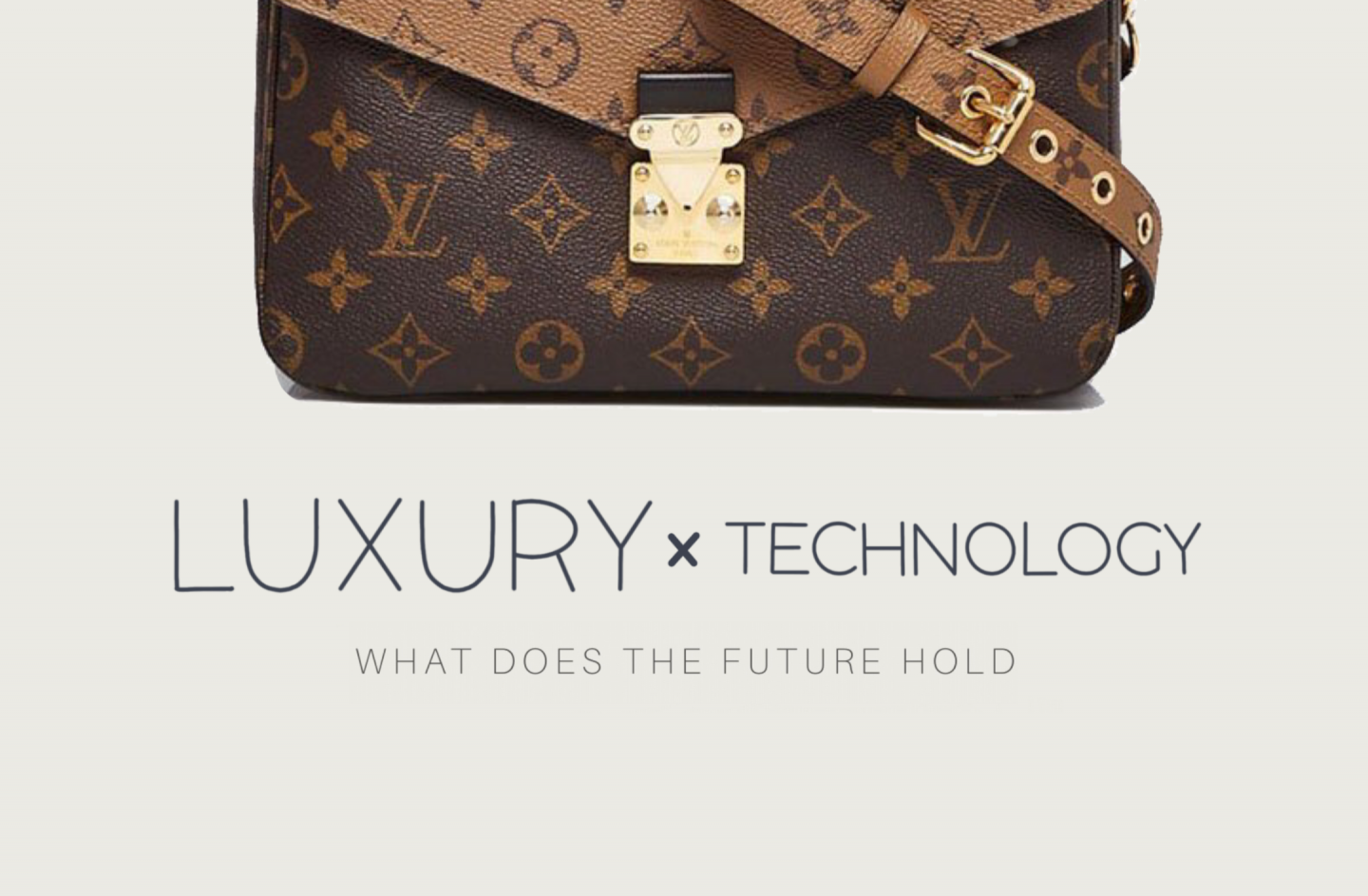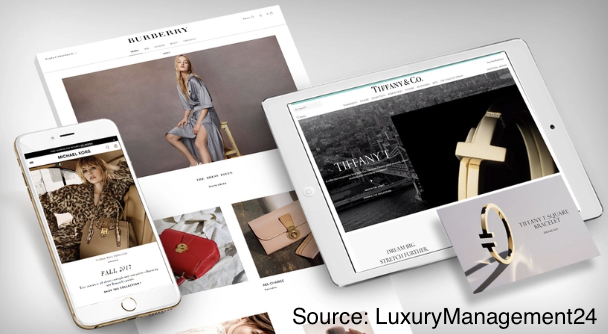 The luxury and retail industry remain as the top growing sector in 2019, achieving an average brand value growth rate of 11% year-over-year (Interbrand, 2019). Luxury brands such as Louis Vuitton, Chanel and Gucci maintain their success by adapting to rapid changes in stylistic trends, while securing their brand's authenticity, exclusivity and craftsmanship. Today, these brands have recognized the importance of emerging technologies and how it can reshape their affluent customer's purchasing experience. Personalized customer experiences using artificial intelligence, visual search or augmented reality would remarkably take shopping experiences to the next level. These trends will show how technological advancements can transform and reshape the world of luxury brands.
1. Personalization and Artificial Intelligence
Luxury brands know how customers enjoy being valued and remembered. Online research indicates that 80% of consumers are more likely to make purchases (Epsilon, 2018), while 48% are more willing to pay when brands offer personalized experiences (Deloitte, 2019). It can even deliver five to eight times the return on investment (ROI) on marketing spend and lift sales by 10% or more when targeting the customers with relevant products (Gregg et al., 2014), which highlights the importance of personalization on both customer satisfaction and brand profits.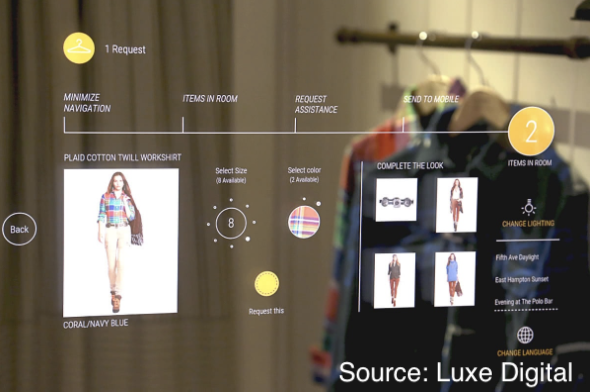 With the use of artificial intelligence (AI) and machine learning, the personalized experience can be thoroughly enhanced. Most luxury brands have sufficient data to predict their customer's consumption behaviors and how to maintain customer loyalty. AI can help brands leverage consumer data effectively, by retaining and analyzing individual shopper profiles, browsing history, purchases and returns to make personalized suggestions and promote the right, desired products for their customers (Beauloye, n.d.).
Kering, a global luxury group that manages renowned brands including Gucci, Saint Laurent and Bottega Veneta, uses AI to assist sales assistants and allocate their stocks. Customers remarkably spend 15 to 20% more when sales assistants use the new mobile app to review customers' past purchases and information on the product's available colors and sizes (Williams, 2019). Meanwhile, Gucci also started using a new AI tool to decide where new products will be allocated globally, which has significantly improved the accuracy of sales forecasts to up to 20% (Williams, 2019).
AI merchandising can also predict and provide relevant products or services for customers. In other words, AI can predict what customers like before they know it themselves. On average 71% of consumers express some level of frustration when they are recommended with irrelevant products, but 49% of shoppers purchase products that were recommended but not on their minds initially (Segment, 2017). Luxury fashion market shifts at a fast pace, the variety of products and trends made it difficult to rely solely on manpower.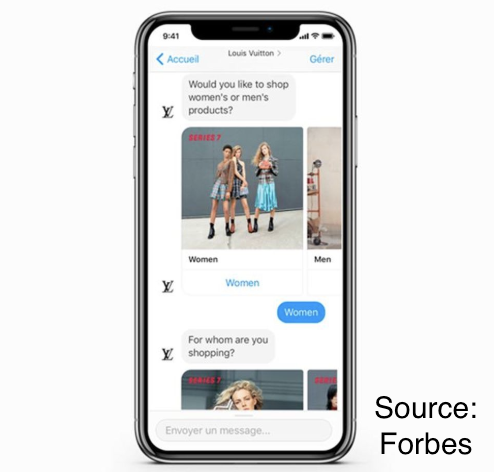 This shows that AI merchandising plays a critical role in tracking what customers like and displays greater selections for consumers to consider. The shopping experience will be more personalized when product recommendations match what they want. Companies have started to increase communication channels with their customers, since more affluent ones prefer contacting luxury brands through text messages or online media platforms. Luxury brands such as Louis Vuitton, Dior and Burberry have incorporated chatbots, a form of AI technology into their shopping experiences. Louis Vuitton's chatbot on Facebook Messenger allows customers to discover the brand's full line of products, or get suggestions on specific products. Natural language processing is used to resemble human-like dialogues, providing their users with further personalized, vivid and conversational online shopping experience (Arthur, 2017).
However, some problems have risen with the AI system. For example, it sometimes recommends similar products of the same categories which will limit purchasing options, and we might have experienced that ourselves as customers. Notably, AI merchandising is not all-rounded enough and improvements are expected to be made. At the meantime, the real job of predicting what customers like still falls in the hands of the luxury brand designers.
2. Virtual and Augmented Reality
Virtual reality (VR) and augmented reality (AR) have transformed traditional marketing into experiential marketing, successfully alluring and retaining affluent consumers. It is shown that around 75% of the top brands, including BMW and Tommy Hilfiger, have incorporated VR and AR for their customers to enjoy a more vivid shopping experience (Korolov, 2015).
Without a doubt, the installation has become a powerful marketing tool, benefiting customers to try out new products without visiting the physical stores. It also makes shopping easier as customers can spend less time and effort on shopping or consuming. At the same time, it provides customers with an extraordinary and personalized in-store experience, where they can shop according to their interests and preferences simply on mobile apps (LS Retail, 2018).
In 2018, Gucci launched its digital Spring-Summer campaign 'Gucci Hallucination', where they introduced AR and VR experiences to their customers. VR devices are given to customers that visit the physical stores by showing them a panorama of the campaign artworks, providing a more comprehensive and fantasy view of the products. While for customers who are unable to visit the physical store, illustrations of products are scannable via the Gucci app, along with AR effects in order to reveal the beauty of the products (Riley, 2018). Not only did this innovative campaign increased Gucci's online exposure by 115 % and generated over $62,000,000 in media value, it also boosted Gucci's revenue by 44.5 % (Makris, 2018).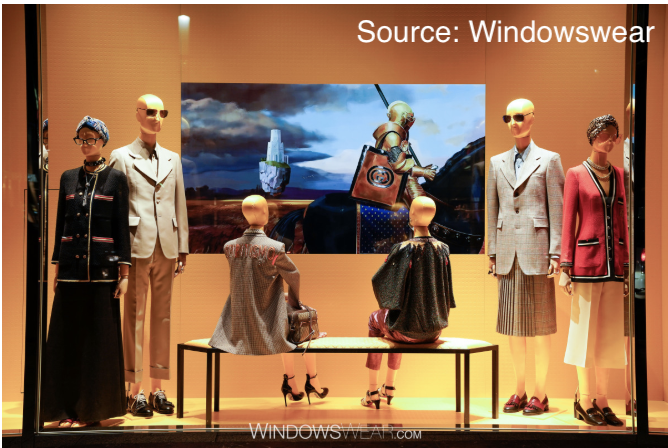 At the meantime, Dior became the pioneer of experiential marketing in 2015 by offering the Dior Eyes, a sophisticated VR headset. This headset was designed and equipped with professional visual and audio functions, creating a 3-Dimensional sensation for users to have a glimpse of Dior's resplendent fashion shows. Dior went above and beyond to share moments of stylists, make-up artists and models preparing backstage before the shows, allowing the public to experience and look into one of the most impressive and grand programs of the fashion industry (LVMH, 2015). The release of these headsets not only retains Dior's loyal fans by providing them with a 'VIP access' to attend runway shows, but also attracts new customers by introducing such innovative technology. The success of Dior Eyes became one of the reasons why Dior dominated the industry.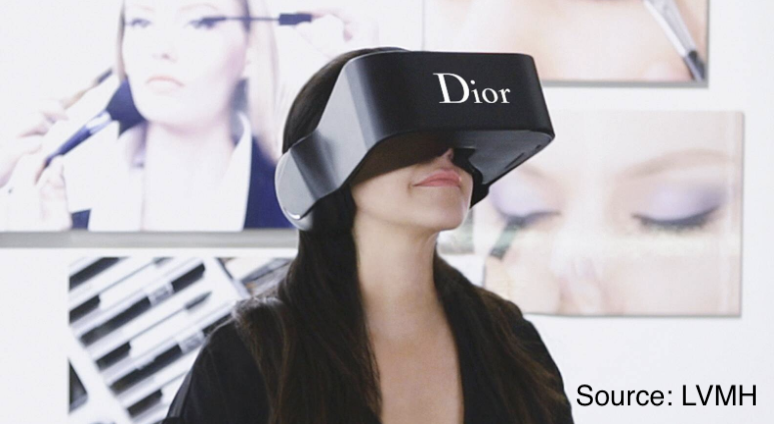 3. Visual Search
Visual search is a new search method that allows customers to search by images instead of keywords. Customers can upload random photos or screenshots, and search engines would analyze the items in the picture. It would then provide relevant products that match the characteristics shown in the image. The visual search market is becoming luxury brand's new darling as it is worth 25 million USD and by 2021, brands that leverage visual search technology could achieve a 30% growth in online revenue (Subha, 2019). A study conducted by BloomReach has proven that visual search conveyed 48% more product views and 57% of customers preferred sites with visual search over those with only text search (Raconteur, 2019).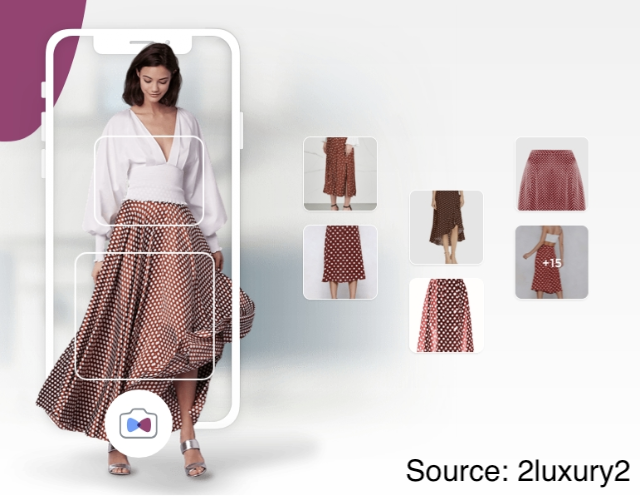 'Fashion is all about the visual', said John Xiao, the vice president of Nordstrom (Keaveney, 2019). Humans are sensory beings who rely on their five senses to receive information. This is why we believe some of our purchasing decisions are more sensible and reliable when you can touch, see and try different products before buying them. But the launch of visual search can bridge the gap between online and real shopping experience. As a matter of fact, visual search can even stimulate customers' purchase decisions. When shopping in physical fashion stores, customers may take longer to deliberate their purchasing decision as they have more information to comprehend, this process could reduce their purchasing intent (Subha, 2019). However, by online visual search, customers are encouraged to make choices according to their intuition and eliminates the deliberation phase, making them more likely to purchase.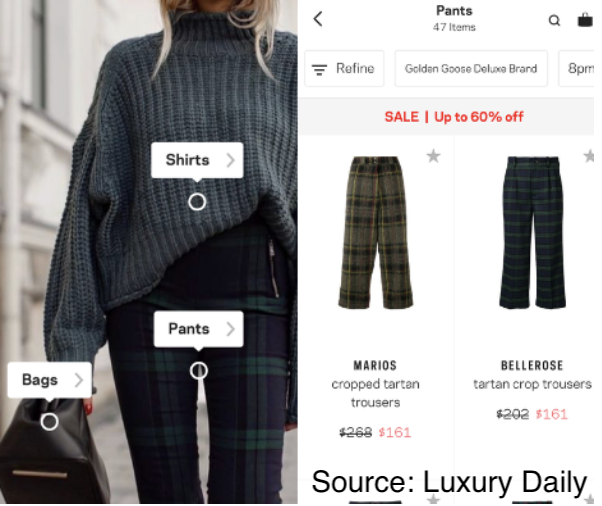 Many luxury brands have begun to launch visual search functions on their online shopping platforms. Neiman Marcus's 'Snap. Find. Shop.' function enables the brand to promote their online retail successfully. Wanda Gierhart, CMO of Neiman Marcus Group says that 'Visual search removes hurdles, taking the customer directly from inspiration to gratification', allowing customers to shop at anywhere and anytime (Retaildive, n.d.). Farfetch, a luxury menswear and womenswear brand also launched the 'See It, Snap It, Shop It' function on its app in order to distinguish themselves from other competitors, as well as attract other fashion brands such as Burberry, Chanel and Gucci to expand their visual search function (Ramirez, 2018).
What does the future hold for luxury and technology?
Generations Y and Z will eventually become the primary engine of growth for the luxury market, and will represent approximately 55% of the market by 2025 (D'Arpizio et al., 2019). Generation Z especially is showing highly differentiated preferences compared to previous generations. With millennials and generation Z increasingly reliant on technology, we can definitely look forward to what it will bring to the world of luxury brands.

Reference
4 AI Trends To Grow Your Luxury Ecommerce Online and Offline. Luxe Digital. Retrieved 9 March 2020, from https://luxe.digital/business/digital-luxury-trends/how-personalisation-and-artificial-intelligence-are-transforming-luxury-retail-online/.
Arthur, R. (2017). Louis Vuitton Becomes Latest Luxury Brand To Launch A Chatbot. Forbes. Retrieved 9 March 2020, from https://www.forbes.com/sites/rachelarthur/2017/12/08/louis-vuitton-becomes-latest-luxury-brand-to-launch-a-chatbot/#6685c4d1fe10.
D'Arpizio, C., Levato, F., Prete, F., Fabbro, E., & Montgolfier, J. (2019). The Future of Luxury: A Look into Tomorrow to Understand Today. Bain. Retrieved 9 March 2020, from https://www.bain.com/insights/luxury-goods-worldwide-market-study-fall-winter-2018/.
Dior creates its own virtual reality headset – LVMH. LVMH. (2015). Retrieved 9 March 2020, from https://www.lvmh.com/news-documents/news/dior-creates-its-own-virtual-reality-headset/.
Gregg, B., Maes, W., & Pickersgill, A. (2014). Marketing's Age of Relevance: How to read and react to customer signals. McKinsey & Company. Retrieved 9 March 2020, from https://www.mckinsey.com/business-functions/marketing-and-sales/our-insights/marketing039s-age-of-relevance-how-to-read-and-react-to-customer-signals.
Grow.segment.com. (2017). Retrieved 9 March 2020, from http://grow.segment.com/Segment-2017-Personalization-Report.pdf.
Interbrand Celebrates 20 Years of Best Global Brands Report, Highlights Fastest Growing Sectors – Newsroom – Interbrand. Interbrand. (2019). Retrieved 9 March 2020, from https://www.interbrand.com/newsroom/interbrand-releases-2019-best-global-brands-report/.
Keaveney. (2019). How Google Wants to Transform Retail with AI. Technology Solutions That Drive Business. Retrieved 9 March 2020, from https://biztechmagazine.com/article/2019/04/how-google-wants-transform-retail-ai-2.
Korolov, M. (2015). 75% of top brands have VR projects – Hypergrid Business. Hypergridbusiness.com. Retrieved 9 March 2020, from https://www.hypergridbusiness.com/2015/10/75-of-top-brands-have-vr-projects/.
Makris, D. (2018). Gucci Hallucination Campaign. Medium. Retrieved 9 March 2020, from https://medium.com/ad-discovery-and-creativity-lab/gucci-hallucination-campaign-c94e34edc46a.
Neiman Marcus expands visual search to provide instant gratification to consumers | Retail Dive. Retaildive.com. Retrieved 9 March 2020, from https://www.retaildive.com/ex/mobilecommercedaily/neiman-marcus-expands-visual-search-to-provide-instant-gratification-to-consumers.
New Epsilon research indicates 80% of consumers are more likely to make a purchase when brands offer personalized experiences. Us.epsilon.com. (2018). Retrieved 9 March 2020, from https://us.epsilon.com/pressroom/new-epsilon-research-indicates-80-of-consumers-are-more-likely-to-make-a-purchase-when-brands-offer-personalized-experiences.
RAMIREZ, S. (2018). Farfetch latest luxury retailer to launch on-the-go visual search. Luxury Daily. Retrieved 9 March 2020, from https://www.luxurydaily.com/farfetch-latest-luxury-retailer-to-launch-on-the-go-visual-search/.
Retail, L. (2018). 6 technology trends reshaping the luxury fashion industry. Lsretail.com. Retrieved 9 March 2020, from https://www.lsretail.com/blog/6-technology-trends-reshaping-luxury-fashion-industry.
Riley, D. (2018). Gucci employs VR and AR experiences for spring campaign – Current Daily. Current Daily. Retrieved 9 March 2020, from https://thecurrentdaily.com/2018/03/01/gucci-spring2018-vr-ar-campaign/.
Subha, C. (2019). Visual Search, a Game Changer in Fashion Retail | Vue.ai Blog. Vue.ai Blog. All about retail, AI, and fashion. Retrieved 9 March 2020, from https://vue.ai/blog/trends-and-analysis/visual-search-in-fashion-retail/.
Visual search is the next battlefield in retail – Raconteur. Raconteur. (2019). Retrieved 9 March 2020, from https://www.raconteur.net/sponsored/visual-search-is-the-next-battlefield-in-retail.
Williams, R. (2019). Bloomberg – Are you a robot?. Bloomberg.com. Retrieved 9 March 2020, from https://www.bloomberg.com/news/articles/2019-06-07/gucci-owner-kering-adds-digital-tools-to-help-keep-up-growth.
Www2.deloitte.com. (2019). Retrieved 9 March 2020, from https://www2.deloitte.com/content/dam/Deloitte/ch/Documents/consumer-business/ch-en-consumer-business-made-to-order-consumer-review.pdf.
---