The Importance of Creativity in Times of Crisis – Looks Like You Need Iceland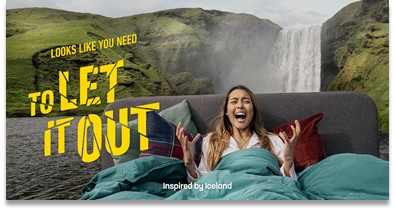 Written by: TO Lok Ching, Tillie
Many of us get stressed and frustrated in times of a pandemic, especially as we face countless uncertainties, social distancing and lots of months without traveling. But thanks to Promote Iceland, the campaign "Looks Like You Need Iceland" invited people around the world to let out their frustrations with a scream in some of the most beautiful Icelandic landscapes. It sets off an extraordinary example on how traveling industries evolve with creative marketing strategies during the coronavirus, maintaining the ability to captivate their target audience.
The campaign aimed to "strengthen Iceland's image, increase demand, and maintain Icelandic tourism's competitiveness" in foreign markets (Ćirić, 2020), promoting Iceland as the top-of-mind destination for traveling after Covid-19 or when restrictions are relaxed. The app and website allow users to record their screams, which will be released live through speakers located in seven remote locations across Iceland. Therapist and mental health consultant Zoë Aston also provided scientific insight for the website, explaining how screaming acts as a therapeutic tool to release emotions and stress. A humorous 1-minute clip, "Let It Out!" directed by Samuel and Gunnar of Skot Productions was released as part of the campaign (Gianatasio, 2020), featuring different people living in lock-down scenarios and how they relieved themselves by screaming through the platform.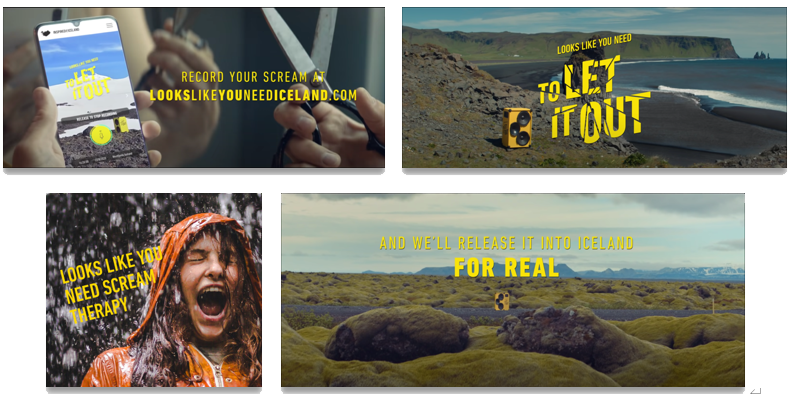 Nowadays, brands must make their content valuable to consumers in order to survive and thrive in such a competitive market. There are two important reasons that made this campaign effective and can be applied to other brands as well.
First is their ability to adjust and adapt in times of crisis. While travelling won't be an option soon, it is still crucial for a  brand to display their awareness of a global situation and engage with their audience. The Promote Iceland agency surveyed around the world in June, where statistics have shown that 40% of respondents were suffering from stress due to the coronavirus pandemic (Elliott, 2020). This showed how they have reached out to understand their audiences' anxieties and took action to address by providing direct support through their campaign (Kannenberg, 2020). Not only did the agency build stronger connections with their audience, it also helped achieve its ultimate goal: the top-of-mind effect for travel destinations.
Second is the chance for the public to be a part of the campaign. With very simple steps, users have the opportunity to broadcast their voices from anywhere in the world. They were encouraged to share the campaign hashtag #LetItOutIceland on social media, which helped the brand reach a broader audience. Social media can be a plus for brand engagement because it stimulates word-of-mouth marketing with more easy, convenient interactions between consumers and brands online. This will take brands up a notch in the digital age, allowing engaged customers to increase the brand's revenues and profitability even further (NBRI, 2019).
Above all, we can see how brands have to be creative, timely and interactive to stand out from their competitors, recognize their audiences' needs and fascinate them with the content of their interest to drive action.
References
Ćirić, J. (2020, May 13). Icelandic Government Invests ISK 1.5 Billion in Tourism Ad Campaign. https://www.icelandreview.com/travel/icelandic-government-invests-isk-1-5-billion-in-tourism-ad-campaign/.
Elliott, A. (2020, July 16). Iceland calls for international screamers. RÚV. https://www.ruv.is/frett/2020/07/16/iceland-calls-for-international-screamers.
Gianatasio, D. (2020, July 20). Iceland's New Tourism Campaign Is a Scream, Perfect for 2020. Muse by Clio. https://musebycl.io/advertising/icelands-new-tourism-campaign-scream-perfect-2020.
Kannenberg, L. (2020, April 9). Social Spotlight: Adjusting and adapting during a global pandemic. Sprout Social. https://sproutsocial.com/insights/social-spotlight-adjusting-during-a-global-pandemic/.
What is Brand Engagement and Why Does it Matter? NBRI. (2019, December 25). https://www.nbrii.com/faqs/market-research/brand-engagement-matter/.
---