Unethical Content Collection from NGOs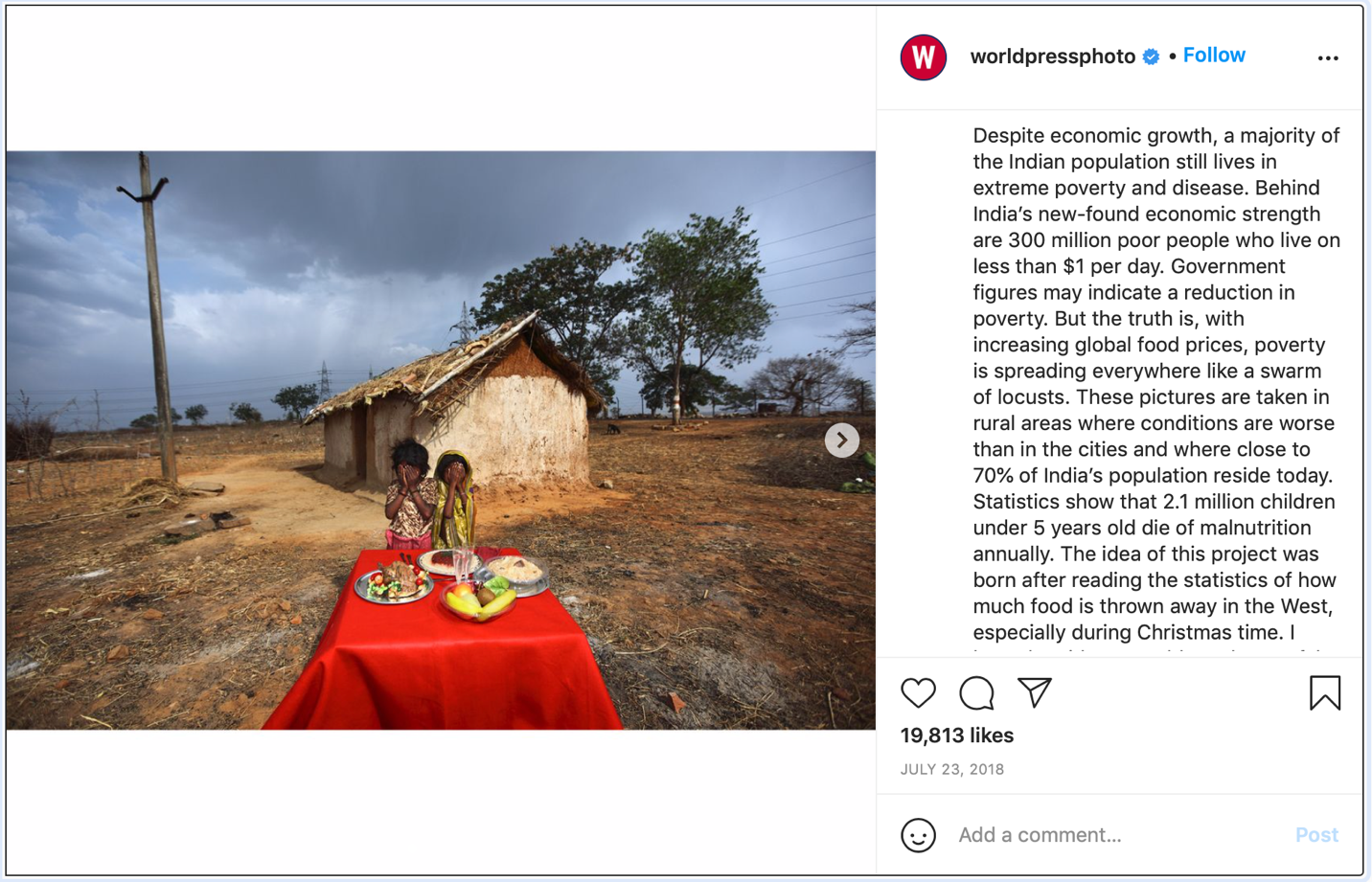 Lam Pui Yan Alice
Images and stories collected from developing areas are major media sources for NGOs to ask for donation, advocacy and future development. However, the ethics behind this content collection method has been the subject of heated public debates.
In 2018, the Worldpressphoto, which has been frequently addressing human rights issue in recent years, posted a series of photograph named "Dreaming Food" by photographer Alessio Mamo. In the photographs, Indian children and elderlies covered their eyes with a table of plentiful but fake food in front of them, during Christmas time. It can be seen from their body condition that the contributors are suffering from malnutrition such as kwashiorkor. However, they were asked to imagine the food they wish to appear on the table. The photo series has immediately led to an online debate, blaming the photographer for dehumanising them.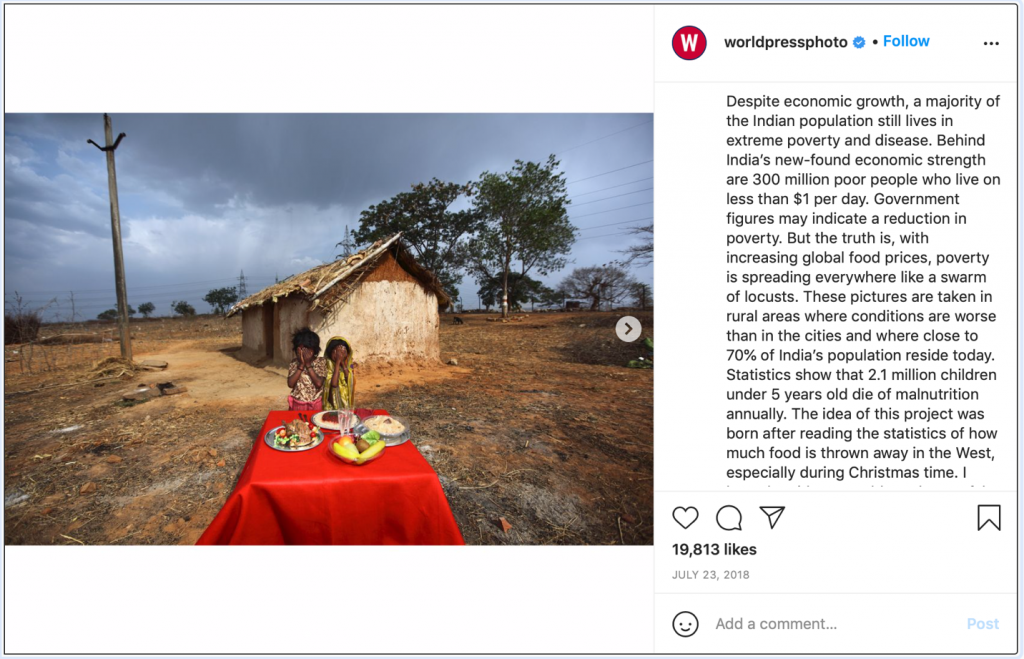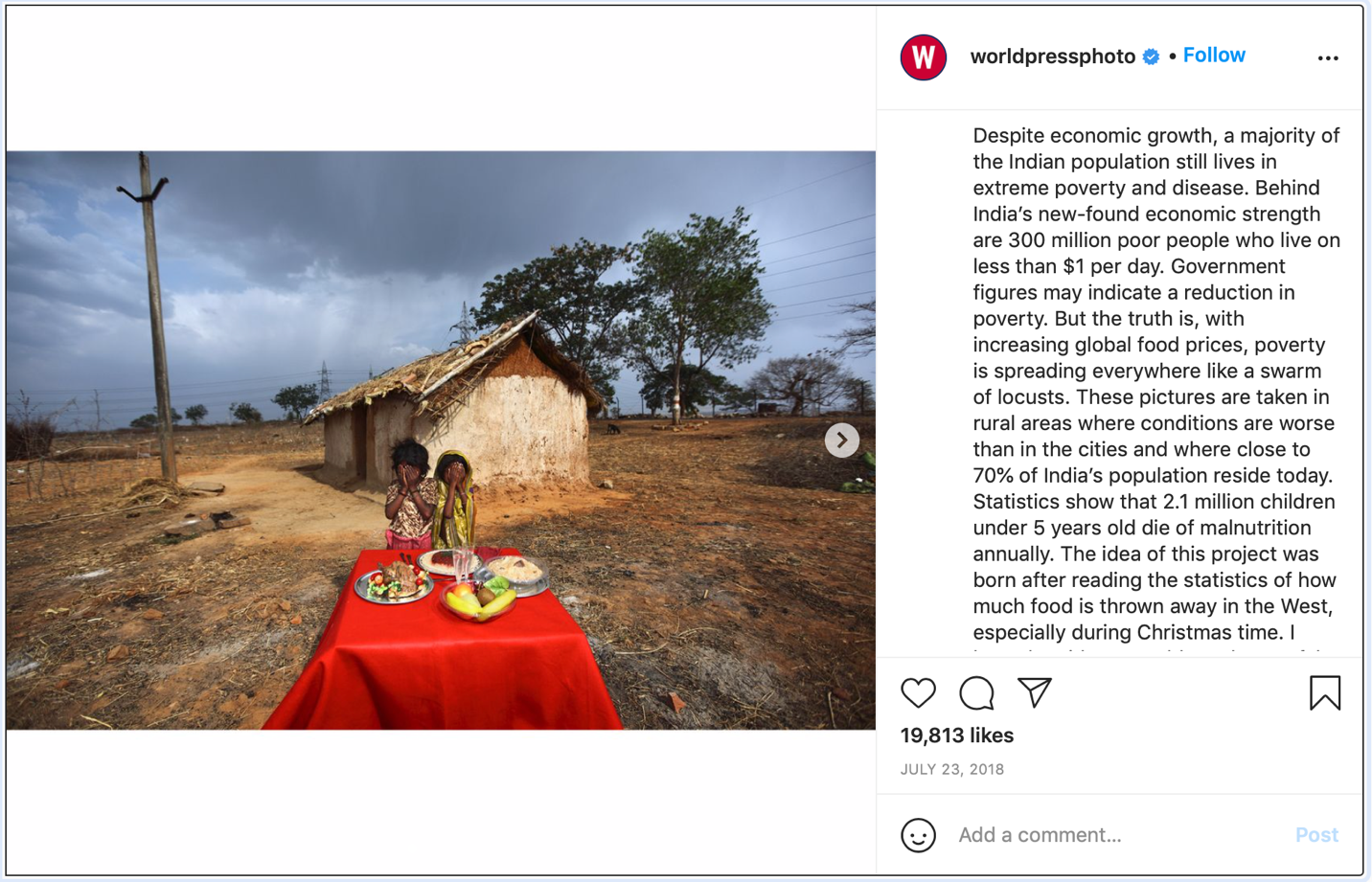 Instagram post of "Dreaming Food" by the Worldpressphoto.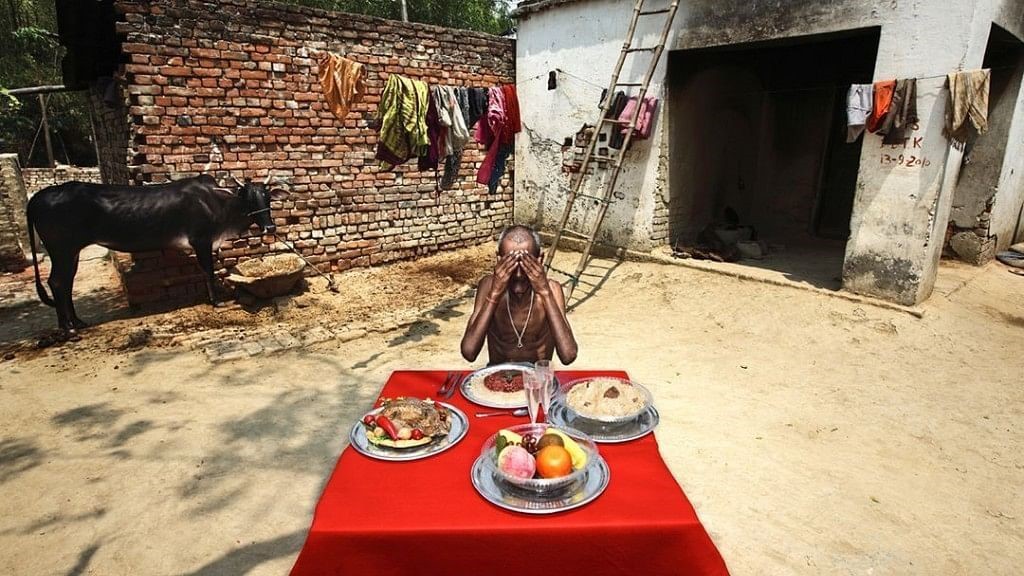 More photos from the series "Dreaming Food".
This could be an extreme case but unethical imagery, or poverty porn, are not uncommon in photographs used by NGO.
Examples of photographs from NGOs that violate the imagery guidelines set by various organisation such as Amnesty International Catalunya, Spanish Development NGO coordinator, etc.
The ethical problem of content collection lies in two areas, namely the image and the image-making process. As photographs by NGO are usually aimed at showing needs and problems, they tend to choose or take pictures that portray people being disempowered. However, if audience support the corresponding charity due to their feelings of pity and guilty instead of really understanding their problem, their support could not last long. Also, with the portrayal of famine and malnutrition, contributors are usually undignified as they are described as seeking or begging for help. This may perpetuate stereotypes that people in developing countries are all demanding help.
But somehow their action is not all of their own will. Like how a Syrian teenager in Jordan said, "Happiness doesn't move people", NGOs are constantly under pressure from audience. According to Jess Crombie, a leader in the humanitarian communication sector, audience would consider the status by checking if the contributors are holding a pen, getting educated or if they look malnourished. NGOs thus do not take further steps to change this behaviour that they rely on.
During the stage of image-making process, the storytelling style is often defined by the users but not the contributors. However, from a research done by the People in the Picture Working group, contributors usually have their own preference on what and how their stories should be told. Under limited manpower and resource, lack of relationship and trust between content collectors and contributors would be the underlying problem making NGOs not truly understanding stories of their contributors'. The attempt of charities making decision on behalf of the contributors are said to be a paternalistic style of storytelling, making contributors feeling like they are not being fully treated with respect, pride and valued.
And in most cases, photographers do not properly inform contributors to obtain their consent before or after taking the picture. This implies that they may have conscious or unconscious bias on contributors' understanding of their work and thus they consider asking for consent and permission as unnecessary.
As what Rachel Erskine, communication manager in Amref Health Africa UK said, "NGOs have the responsibility to represent those stories in an accurate, authentic and nuanced way as we can, as indeed in the way we are there to collect stories is already an immense privilege". No matter how much difficulties are faced by NGOs, they should take an active role to change these common but unethical practices.
Reference
Alison Dundes Renteln Professor of Political Science. (2019, October 31). Images of suffering can bring about change – but are they ethical? Retrieved March 14, 2021, from https://theconversation.com/images-of-suffering-can-bring-about-change-but-are-they-ethical-100809
Blaszczyk, M. (2020, February 18). Is NGO storytelling unethical? Retrieved March 14, 2021, from https://www.bond.org.uk/resources/is-ngo-storytelling-unethical
The people in the Pictures: Vital perspectives on save the Children's image making. (2019, April 23). Retrieved March 14, 2021, from https://resourcecentre.savethechildren.net/library/people-pictures-vital-perspectives-save-childrens-image-making
Photographer hammered over india 'POVERTY porn' images. (2018, July 24). Retrieved March 14, 2021, from https://www.bbc.com/news/world-asia-india-44934992
Unite for sight. (n.d.). Retrieved March 14, 2021, from https://www.uniteforsight.org/global-health-university/photography-ethics
---