Unhashtag Vienna- Vienna Tourist Board obscured the world best-known artwork with a giant red hashtag
Written by: CHAN Yi Ling, Elaine
Are people nowadays really enjoying the moment when travelling? Do striking a perfect post, getting Instagram-likes matter more when travelling? In this digitalized era, social media influences people's travel choices and experiences. However, in the age of social media, Vienna Tourist Board witnessed this world phenomenon and decided to take an anti-social media attitude in its "Unhashtag Vienna Campaign" at 2019 to promote digital detox.
To promote the message of digital detoxing, the campaign displaced different photographs with a large hashtag sign on it. They portrayed some humorous mimic of travellers' behavior—photographing everywhere without enjoying the trip to its fullest. The central message echoing the theme of the campaign was beyond clear: "See Vienna – not #Vienna. Enjoy the city behind your pics!". Who needs a digital detox more than anyone else? Vienna Tourist Board knew its target audience. Aiming to raise the awareness of the campaign, the board placed the "Unhashtag Vienna Campaign" photographs in front of media hubs– headquarters of Google, Facebook and Apple in Silicon Valley and New York City. Soon the campaign appeared extensively across the public spaces, print and digital media across the states.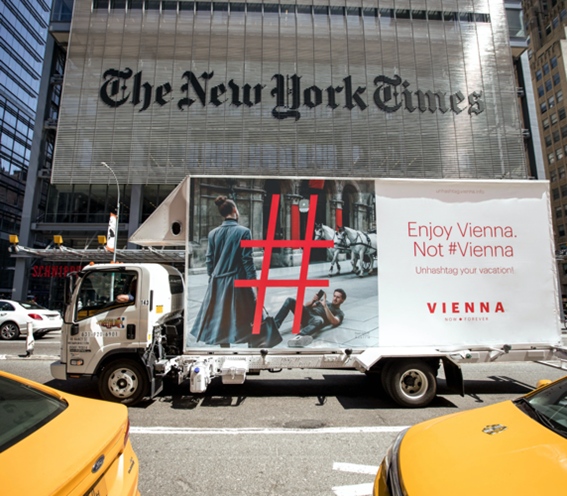 The campaign collaborated with the Belvedere and made a bold move—covering the world best-known art piece with a giant red hashtag. Klimt's Kiss at the Upper Belvedere is a world- famous painting which fascinates over 1.4 million people to visit the gallery in Vienna every year. The painting was covered with a red hashtag for few days, visually striking the visitors while the unobscured original would be shown in the other room so as to not disappoint them. Upper Belvedere Museum, as well as many well-known art galleries, have long been in the wrestle between art and social media, the campaign hit the audience hard and reminded them to rethink how they should truly appreciate the art.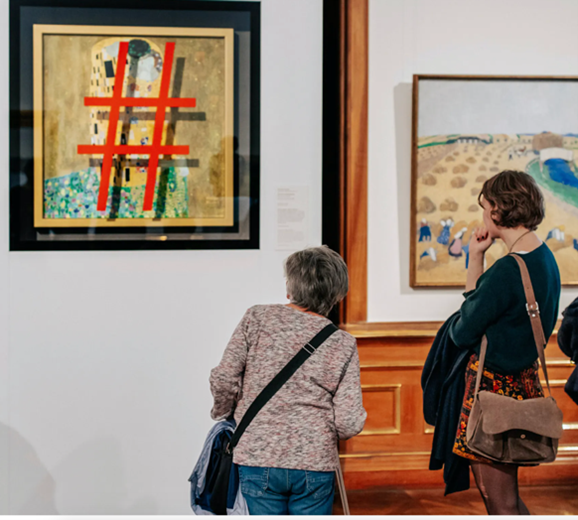 Apart from the offline events, the board surely didn't miss out to promote online. The campaign invited British travel social media influencers Claire and Laura to experience a digital detox trip to Vienna. Throughout the trip they were abstained from what they do best—sharing pictures and moments online. On the contrary, they were provided with instant cameras which helped them to capture only the most precious moments and allowed them to experience their discovery in Vienna more mindfully. Afterwards, they shared their experience online which encouraged their followers to enjoy the time with their own company when travelling.
Afterall, how did the Vienna Tourist Board transform the message into action? The board catered tourists' needs by offering instant camera lending service for free. Tourist could borrow the camera and take up to 10 shots, meantime their smartphones could also enjoy its vacation.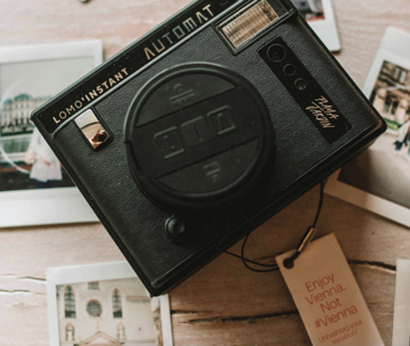 "The Unhashtag Vienna Campaign" was inevitable a bold move in the age of social media. The Vienna Tourist Board promoted digital detox in the world most Instagrammable place that reminded everyone to see Vienna, not #Vienna.
Reference:
Unhashtag Vienna. (n.d.). Retrieved September 29, 2020, from https://unhashtag.vienna.info/en-us
Unhashtag Vienna – The Vienna Tourist Board's campaign hides Klimt's Kiss behind a hashtag. (n.d.). Retrieved September 29, 2020, from https://b2b.wien.info/en/press-media-services/unhashtag
---